… Billingy is U15 and U19 girl's champion, Wong clinches U15 title
Action in the National Junior and Cadet Table Tennis Championships concluded at the Cliff Anderson Sports Hall with the likes of Colin Wong, Jasmine Billingy and Jonathan Van Lange winning in their respective categories.
Heading into the final day, all players were aiming to bring their best versions of the game to the tournament. They had their game faces on, and only the best-of-the-best would emerge victorious.
In fact, the most anticipated matchup saw the under-19 boys in battle, with names such as Jonathan Van Lange, Niran Bissu, Isaiah Layne and Krystian Sahadeo participating.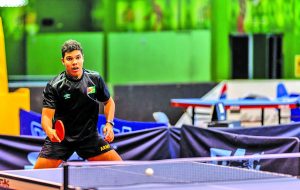 This category was an absolute thriller. In the semifinal matches, Van Lange dominated Isaiah Layne 4-0, which gave him a boost of confidence, as he booked his spot in the finale. Bissu, on the other hand, duked it out with Sahadeo, who managed to win two games but still lost as Bissu booked his spot at 4-2.
The grand finale was a back-and-forth affair, with both players using every serve in the book to their advantage. Every trick and every strategy was employed as they laid it all on the line.
However, it was Van Lange who added another title to his name, as he copped the Under- 19 prize 4-1 (11-5, 12-14, 11-7, 12-10, 11-9).
Despite the scores, Bissu challenged Van Lange and made him work hard for his victory.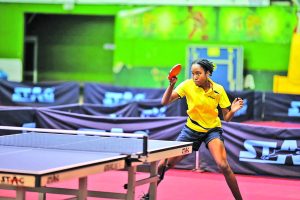 The Under-15 girls' tournament saw Jasmine Billingy, Samara Sukhai and Akira Watson battling for the crown. This matchup was played in a round-robin format, as per rules.
Billingy was challenged by Sukhai, but in the end Billingy pocketed 8 points, while Sukhai settled for second on 7 points.
Billingy then grabbed her second title, as, on Saturday, she added mixed doubles winner to her name alongside Jonathan Van Lange.
But little did the young talent Billingy know there was a third title on the horizon for her. Her next battle came in the form of Thuraia Thomas, who was not a walkover in the 19-years-and- under women's category.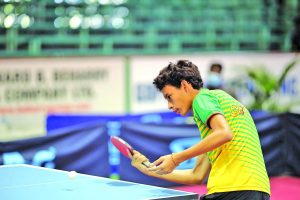 In their semifinal showdown, Thomas brushed off Crystal Melville while Billingy edged out Sukhai once again.
The young women were in it to win it, thus the in-form Billingy decimated Thomas, winning all three of her games, but not before Thomas gave Billingy a run for her money. The scores at the end of her 3-0 win were 11-8, 11-8 and 11-9.
The next encounter saw Colin Wong and Ebo McNeil fighting for the 15-years-and-under boy's title. In both players' semifinal bout, they made light work of their opponents, as McNeil fended off Darius Daniel while Wong defeated Malachi Moore. When the young men entered the battle arena, Colin Wong emerged the last man standing as he won all three of his games 3-0.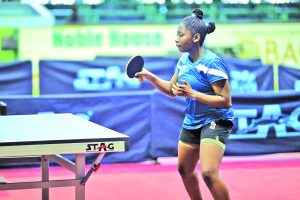 Wong was able to take round one 11-7. He then returned to dominate the second game 11-4, and despite McNeil applying some pressure, Wong prevailed and won the third round 11-8.
The action will continue next weekend when the U21 C and B class will be in action; and the following week will see the Seniors in action.