The Guyana Volleyball Federation (GVF) on Sunday hosted a female tournament with four teams participating. The Vanguard female squad emerged victors of the tournament, held in honour of Olympic Day.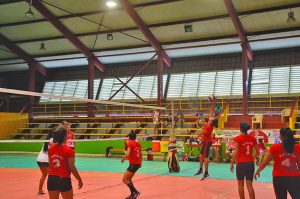 In the opening fixture, the St Cuthbert's girls defeated the Mahaica unit by two games to none, with scores of 25–10 and 25-8. Vanguard then easily brushed aside Castrol Strikers, winning 25-14 and 25-15.
In their next clash — against Mahaica, Vanguard again came out on top, winning 25-9 and 25-12 en route to the finals.
St Cuthbert's managed to beat the Castrol Strikers in two closely contested games to earn a spot in the final. They won 25-20 and 27-25.
The St Cuthbert's side put up a fight in the three-game final, but were eventually beaten by the more experienced Vanguard squad, who won by scores of 25-15, 25-16 and 25-18.