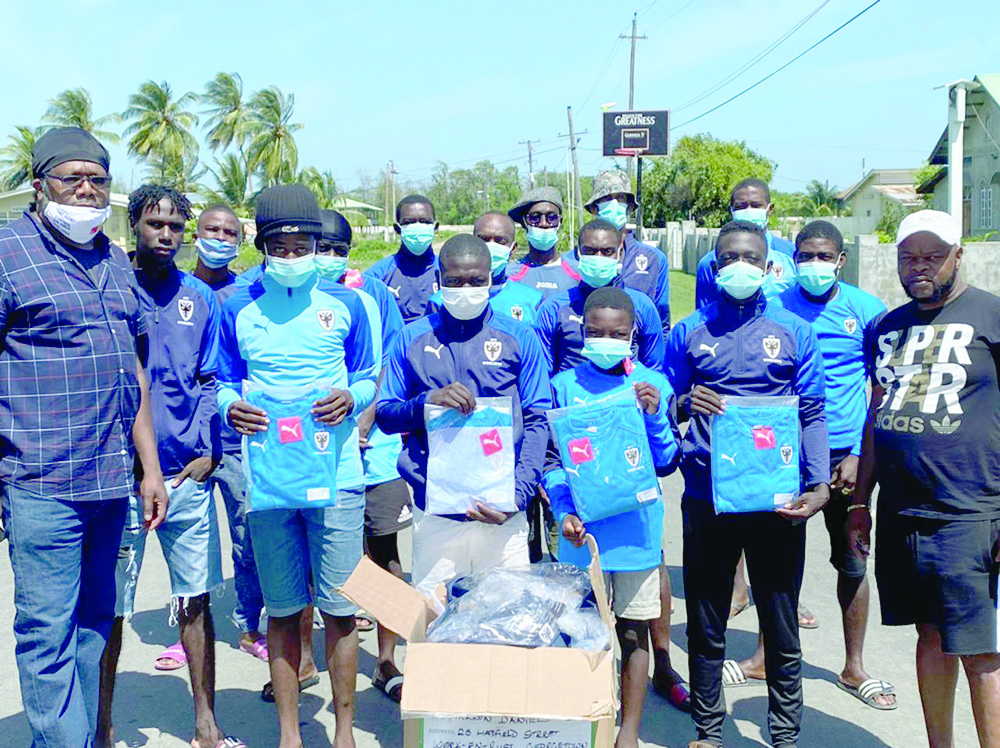 The Victoria Scorpions Football Club has benefitted from what has been described as a "much-needed" donation of football equipment.
The Club, which operates out of the oldest village on the East Coast of Demerara, is looking to get into the game when the coronavirus pandemic restrictions allow for local football competitions, and the equipment donated by two United Kingdom-based men will go a long way for the Club.
Michael Hamilton and Roger Isaacs of the AFC Wimbledon Academy (UK) in conjunction with the "2020 Project" facilitated the provision of a quantity of football clothing to the club. Isaacs was physically present at the handing-over ceremony on Saturday last. The clothing are replica kits of the AFC Wimbledon Academy.
While Captain Ahmad Parks expressed his gratitude to the donors and pledged that the gear would be utilised fully for the development of the Club's players, Rex Jackson expounded on the need for the kits and the plans for the future of the Club.
"The donation is a very timely one, since the Club is in dire need of equipment, soccer gears and other things that can assist in developing this Club," Jackson said while speaking exclusively with Guyana Times Sport during a telephone interview.
When probed about the vision for the Club, which is fairly new on the local football scene, Jackson shared that 2020 was earmarked for its ascension into competitive games under the banner of the East Coast Demerara Football Association (ECDFA). However, those plans were halted by the ongoing pandemic.
"The vision for the Club this year – I should say that before the COVID-19 pandemic, the Club was hoping to embark on a tournament which was supposed to have been managed by the East Coast Football Association, but because of the pandemic that was not possible," Jackson shared with this publication.
Nonetheless, Jackson is confident that the Club will be able to get in on the action once the pandemic lets up and the restrictions are slackened.
He stated, "But as soon as the restrictions are eased so to speak, I think that would be the first call of duty."
The AFC Wimbledon Academy is the youth team for the professional English Association Football club AFC Wimbledon. The Academy, which focuses on youth development, has Category Three status, with Under-23 and Under-18 squads. Michael Hamilton is the Academy Manager.