… as ophthalmology enterprises display new technology, equipment
Vision-care practitioners and other stakeholders have gathered for the 28th annual Ophthalmological Society of the West Indies (OSWI) forum where policies and standards in the administering of vision care were discussed. The Public Health Ministry facilitated the Ophthalmological Society forum for the first time this year, after being awarded the honour of hosting the regional conference in Guyana.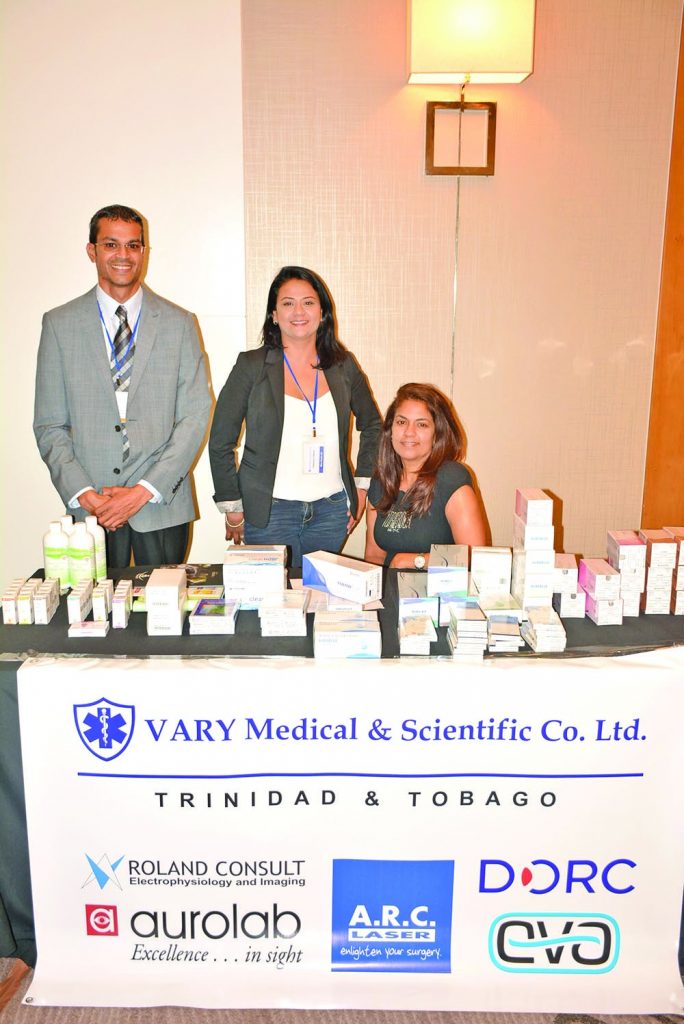 The conference attracted stakeholders including eye surgeons, ophthalmic nurses and technicians, ophthalmic pharmaceutical and equipment distributors and affiliate partners within the Caribbean region annually. Distinguished ophthalmologists from the United States and the United Kingdom presented and shared information on the latest advancements in their various fields of ophthalmology at the Guyana Marriott Hotel in Georgetown.
On Saturday when Guyana Times visited the forum, a number of ophthalmologists and stakeholders from across the Region displayed equipment and new technologies to enhance ophthalmology care.
Dr Yaspaul Sharma of Vary Medical, based in Trinidad and Tobago, was among those who were at the 2017 event and offers consumables for eye surgery across the Caribbean. According to Sharma, his company's main focus is to offer products at an affordable price.
"The focus is to bring high-quality consumables at affordable prices, so that the cost for eye surgeries could be lowered and in that way, eye care and better vision could be achieved for most population," Dr Sharma told this newspaper in an interview.
Dr Sharma added that the company offers products for various eye surgeries including cataract and retina surgery. "We offer products like the implant lenses for cataract surgery and pharmaceutical products to be used after these surgeries that will help the patients as their eye heals after the operation", Dr Sharma revealed.
Godfrey Phillip of Steede Medical, another participant of the conference, also spoke to Guyana Times about the products offered by his company.
Steede Medical is the Caribbean distributors for Nideck, one of the leading manufacturers for surgical equipment.
According to Phillip, Steede Medical has recently introduced a line of surgical instruments along with pharmaceutical and non-pharmaceutical items to help further eye care and to assist doctors in their various practices.
Eye See You Ophthalmic with Managing Director, Dr Sunil Munisar is a one stop shop for all the necessary equipment needed for eye surgeries.
Munisar disclosed that the company was formed six years ago for "one of the better reasons…. when the doctors need products, they needed a company that had what they needed. So we carry everything, from surgical instruments, cataract consumables equipment, optical equipment and also what we do is that we service what we sell".
The yearly conference serves an advocacy role while helping to promote policies and standards for vision care and enabling continuing professional development opportunities for physicians, surgeons and other professionals in the field.
The four-day event also serves as an opportunity for the 10 local nurses, General Medical Officers (GMOs) and other allied health workers selected to attend to upgrade and sharpen their skills.
Some of the ophthalmologists are expected to perform clinical work at the Georgetown Public Hospital Corporation, the sole referral institution in Guyana. Issues to be addressed at the conference will include basic eyelid repairs; how diabetes affects our eyesight; glaucoma and cataract surgeries and managing refractive errors in children. Refractive errors include near-sightedness, far-sightedness and distorted vision.