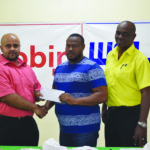 With just two weeks to go before the second annual kickoff of the KFC Goodwill Tournament, the competition has seen another addition to the list of sponsors, as Mike's Pharmacy, under the Vitabiotics brand, joined the list of sponsors Tuesday afternoon. The brand includes popular supplements such as Feroglobin and Wellman.
Speaking at the simple handing-over ceremony, which was hosted at the Ministry of Education Ground, Carifesta Avenue, Vitabiotics Marketing Manager Michael Jessimy highlighted the company's commitment to sports, outside of football, and pledged that the brand would remain dedicated to sport development.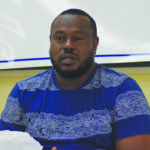 "We understand and believe in the necessity of enhancing sport as part of making a healthy nation and for the further development of our youths. This isn't our [first] venture into sports, we also support other ventures as well such as cricket. We will always be willing to help with the promotion of sport and to help in the long run to make our country much more recognised on the international sporting arena," Jessimy stated.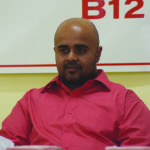 The Goodwill Tournament will commence on December 14 with two games on each playing day. Shiva Boys out of Trinidad and Tobago, USL Montjoly of French Guiana, Annai, Waramadong, Lodge and Annandale Secondary of Guyana will compete over December 16, 18, and 20, with the final slated for December 22. The Vitabiotics brand will be distributing products to the schools competing in the Tournament.
Petra Organisation Co-Director Troy Mendonca expressed his immense gratitude to the company, noting that its contribution would go a long way to making athletes more cognisant of the importance of their health.
"We just want to thank Mike's Pharmacy through Vitabiotics and the Wellman and Feroglobin brand for joining hands with KFC and bringing this tournament. I can tell you that your contribution here will be massive, in terms of us exposing these youths and building a brand for future years to come," Mendonca expressed.
Meanwhile, owing to the hindrance that heavy rains have caused to the Guyoil/ Tradewind Tankers league, the current top two teams Lodge and Annandale Secondary have been officially placed on the KFC schedule, despite the uncompleted state of the league.
While it is the hope that the league can be wrapped up before the beginning of the Goodwill tournament, the organisers have assured that the league will run its full course.
Also on board with the KFC Goodwill tournament is the Guyana Coema Construction and Services Inc, who will be transporting Annai Secondary to and from the Georgetown venue of the tournament.