Following a report in Guyana Times over the weekend about the garbage piled up at the Vreed-en-Hoop junction, West Coast Demerara, the Neighbourhood Democratic Council (NDC) on Monday finally cleared the garbage pile that was of major concern to persons in the area.
When Guyana Times visited the area on Monday, residents said they believe it was only because of the publication done in this newspaper recently that the NDC decided to clear the garbage, which had already been there for weeks.
They, however, noted how happy they were for the relief of the stench that came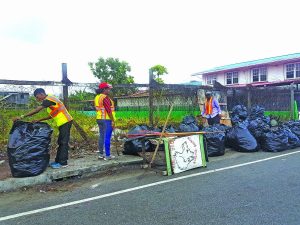 with the wind.
Persons complained that the situation was not only affecting commuters, customers and drivers, but businesses in the area as well.
In fact, it infuriated business owners who reached out to this newspaper last week to share their concerns as the situation resulted in flies and fumes affecting their food and clothing businesses.
An employee at a clothing business in the vicinity had complained that other business persons in the area would usually dump their garbage at the junction; a trend which would usually be followed by school children as well as other commuters who wait at the junction for transportation.
Another concerned businesswoman complained that minibus drivers also throw their garbage near businesses and the NDC does nothing to eradicate the littering trend.
"It's just there and it just keeps piling up. I've never seen anybody clear it up unless we pay people to do it and we are all paying taxes for this," she related.
Meanwhile a business owner noted, "Guys or people at the bus stop would usually drink their beers and their drinks and leave it at our shed and the girls who are employed here would have to clean it".
The entrepreneur said she would like the officials at the NDC to focus on the garbage pile-up in that area and place bins to avoid the issue or even have "litter-free zones" to raise some form of awareness.
Another business owner said that customers usually leave the business and other people do not visit the store when they see the huge piles of waste. It is because of this that she is forced to use her profits to do the work of the NDC.