Twenty-three-year-old Leon Estwick also called "Swipey" was on Thursday remanded to prison by Magistrate Leron Daly when he appeared at the Georgetown Magistrates' Courts charged with the robbery and murder of Essequibo businessman, Deon Stoll.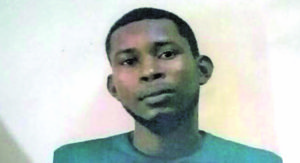 He was not required to plead to the indictable charge which stated that on October 14, he murdered Stoll during a robbery in Georgetown.
In addition, the man, who resides at 640 South Amelia's Ward, Linden, was jointly charged with his brother, Oneil Estwick, 21, for the offences of possession of firearm, ammunition and narcotics.
The duo pleaded not guilty to the charges when they were read to them by the Magistrate and as such, both of them were remanded to prison. The cases were postponed to May 11, 2020, and transferred to the Georgetown Magistrates' Courts for report and reassignment.
Nevertheless, Oneil Estwick was also charged with the offence of harbouring his brother who had been dubbed a wanted person. He pleaded not guilty to the charge when it was read to him.
It was reported that Police in Linden arrested the murder suspect, Leon Estwick, who a wanted bulletin was issued for in 2019.
According to information from the police, ranks acting on intelligence swooped down on a house at Lover's Lane, South Amelia's Ward, Mackenzie, Linden, on April 30 where the suspect and his brother were found.
During the raid, the police also discovered an unlicensed pistol, four live rounds of ammunition and ten grams of suspected cannabis in their possession.
Leon Estwick was fingered in the murder of the Essequibo Coast businessman who was shot dead in front of El Dorado Trading at Da Silva Street, Kitty, Georgetown, last October.
Several other persons were also arrested in connection with the robbery and murder. The gunmen attacked Stoll and his driver just as they were about to enter the building to conduct business.
Stoll however, managed to return fire and reportedly shot one of the gunmen twice. His driver and a security guard at the business place were also shot and injured during the incident. Ever since the incident, Leon Estwick has been on the run.