Matthew Ambedkar of Tuschen Housing Scheme, East Bank Essequibo (EBE), the 19-year-old unlicensed driver who crashed a speeding motorcar into a bar at De Willem, WCD killing three persons, has been released on $1.5M bail two weeks after he was initially charged and remanded to prison on three counts of causing death by dangerous driving.
He appeared on Thursday before Leonora Magistrate Zamilla Seepaul-Ally and was ordered to post $500,000 bail on each of the three charges.
Represented by Attorneys-at-Law Dexter Todd and Dexter Smartt, Ambedkar was also ordered to lodge his passport with the court, after pleading not guilty to the charges. His case will continue on April 26 for statements.
It is alleged that on March 7 at De Willem Public Road, West Coast Demerara (WCD), he drove motor car PVV 1051 in a manner dangerous to the public, thereby causing the deaths of 23-year-old Venezuelan national Carlito Kissoon Gobinlall of De Willem, WCD; Kiram Rampersaud, a 46-year-old fisherman of 41 Zeeburg, WCD; and 44-year-old Ayube Mohamed, a fisherman of Meten-Meer-Zorg, WCD.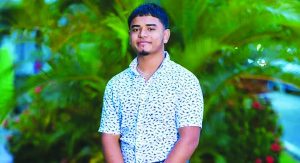 Police Headquarters reported that, on March 7, the teen was driving at a fast rate of speed, allegedly racing with another car when he crashed into the three men who were standing in front of the Sharmila Harrykissoon Sports Bar.
Previous reports have stated that Gobinlall was thrown several feet away, and landed in front of a pharmacy, while Mohamed was found under the debris and Rampersaud was found inside a drain.
Ambedkar was also injured in the accident, as were two other patrons of the bar – Wazim Mohammed and Chandrika Veerasammy, both of De Willem, WCD.
Following the accident, a breathalyser test was administered on this teen driver, but no trace of alcohol was found in his system.
Several Government Ministers have expressed concern over the continued reckless usage of the country's roadways, particularly by "young male" drivers.
Meanwhile, comparative data has shown that, as at March 3, 2022, 15 persons were killed on the roadways as a result of 14 accidents, while for the same period in 2021, 20 persons died from a total of 19 accidents.
For the year 2021, 99 persons have been killed on the roadways, compared with 139 persons for 2020. The 2021 results showed a 29 per cent reduction when compared to 2020. The "vulnerable class" of road users — pedal cyclists, motorcyclists, and pedestrians — have accounted for 67.7 per cent of the total deaths in 2021, and for 79.9 per cent of the total deaths in the previous year.
Based on statistics from the Guyana Police Force (GPF), the combined fatalities of pedal cyclists and motorcyclists have accounted for 37.4 per cent of the deaths in 2021 and for 56.1 per cent of the deaths in 2020.
Moreover, Public Works Minister Juan Edghill has said that he and other Cabinet officials are relooking at the current laws to examine ways in which they could ensure "stricter controls, be it the training/re-training of drivers/riders, higher fines or stiffer penalties, and a studied approach for the introduction of a demerit system." (G1)