– Skeitha Samantha Thomas
By Lakhram Bhagirat
Skeitha Samantha Thomas is unabashedly proud of her indigenous heritage. In fact, she introduces herself as a "proud Lokono (Arawak) from the village of Wakapau in Region Two (Pomeroon – Supenaam)."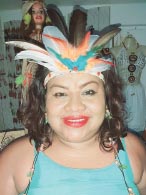 This is the level of proudness that Thomas craves to see her fellow indigenous people exhibit. She is an ambassador of every aspect of her indigenous culture, traditions, heritage.
The 38-year-old relishes her time in her home village of Wakapau.
Wakapau originates from the Lokono word 'Wakokwãn' which translates to Pigeon. Based on Na Eseru – a social media page dedicated to highlighting everything indigenous – the village of Wakapoa was established around 1850 and is made up of a vast mainland and a number of scattered islands.
It has just over 3,000 residents, mainly from the Lokono nation. The village is also home to the largest group of fluent Lokono speakers. The language itself is endangered but the elders in that village are committed to its revitalization.
Thomas has a passion for her language and this has led her to push for its preservation. She now is actively collaborating with the Guyanese Languages Unit.
Moving back to her younger days in the village, Thomas said as a child was educated, up until Primary, in her village but then gained a Hinterland Scholarship to attend the North Georgetown Secondary School in the capital city. Since then, she has been going back and forth between the city and her village.
"I am very passionate about my culture and my tradition including my language which is why I actually became part of the Guyanese Languages Unit. My mother was a teacher of our language. My father is still alive – they are fluent speakers of the Lokono language. I guess that is what groomed me into listening to the language as I grow up," she said.
While she is actively trying to push for the preservation of not only the Lokono language but every indigenous language, Samantha is saddened to see the youths losing the appreciation for their mother tongues.
She remembers during her schooling in the village and the heavy emphasis on English that the indigenous students are losing their identity.
"By doing so (placing the emphasis on western English) they made us feel inferior about using our language which has actually caused our language to become endangered and in some places it is extinct.
"Growing up in Wakapau I was the top of my class and one of the reasons I think this was possible because my father was a pastor. I always had access to a bible and I was always reading and that improved my vocabulary and it improved most part of what we learned in school but little did I know at that time the traditional knowledge was being lost. I was blindsided by learning English and being on top of my class and losing myself in the process but thankfully I didn't lose myself in the process," Thomas said.
She is grateful that her mother took the time to teach her the language resulting in her now being an ambassador teaching others. She recently did several public service announcements in her mother language to inform her community on the various COVID-19 protocols.
"We are losing ourselves in this process of trying to fit in the modern world and sadly there are so many people who do not understand this aspect of it. Development to becoming modernized has caused us as indigenous people to lose a lot of what we are truly are."
Stepping outside of the box
Apart from pushing for the preservation of her language, Thomas enjoys experimenting with her traditional foods.
In an effort to offer some solace during the virtual observance of Indigenous Heritage Month, Thomas created the one-of-a-kind cassava bread pizza.
"Due to the whole (coronavirus) pandemic and all of that, I am stuck in Georgetown and knowing that a lot of people are at home and from work to home and thing and then a lot of people are doing deliveries and people are ordering food etc. The pizza idea actually came about whilst myself and another friend we were talking about the different ways we can showcase our traditional foods," she said.
Now she is flooded with orders for pizzas.
For the past 5 plus years, she has been involved in trading of indigenous products from Wakapau village, especially during the Christmas time when the people would ask for cassareep. She started to bring cassareep to Georgetown and cassava bread to help the people of her village earn extra.
Usually, she would vend at the Heritage Food and Craft Exhibition in Sophia for Indigenous Heritage Month but this year was different. So, she knew that she had to innovate something that would connect people with her culture.
Her friends and she came up with the pizza idea.
"We did two – myself and some other friends from UG – we did two tryouts of it and the first both were excellent and from the first post we were encouraged to do another post. My friend posted it on Facebook and we tried the seafoods and then everybody loved it.
"I said that let's do a pizza sale because I have the cassava bread from the village. It was sent to me. We decided to make it and it was a definite hit and I was baking from morning until after 9 pm. The preparation is the hardest, the baking is not at long as the preparation because you have to prepare the veggies and the all different types of toppings and all of that."
Now almost every morning when she wakes up, Thomas has orders for her infamous pizza. She had originally to just do the pizzas on weekends but the orders are so many, she has to do it every day.
The cassava bread she uses, for now, only comes from Wakapau village because she is big on supporting the people of
For now, Thomas continues to experiment with indigenous ingredients and fuel her passion for the preservation of her culture and heritage.
To order your cassava bread pizza, just call Thomas on 667-3381 to place your orders.