– Ministry PRO urges players in Milo/MoPH collaboration
Once again, the Ministry of Public Health (MoPH) has teamed up with the Milo Under-18 football tournament to shed light on gender-based violence. In this partnership, the MoPH hopes to instil values in the young players, preventing the continuation of gender-based violence, especially against women.
The MoPH exercised its position of information sharing through Public Relations Officer (PRO) Terrence Esseboom, who was present at the team-briefing exercise for the 2018 tournament.
Speaking at the event on Thursday afternoon at the Ministry of Education Ground, Carifesta Avenue, the Co-Director of the organising body Petra, Troy Mendonca explored the importance of the initiative, explaining that it was important to instil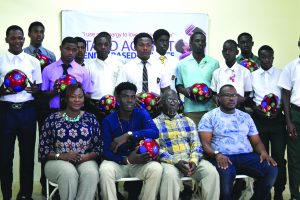 these values in the minds of young men from a tender age.
"I just want to implore upon you, this effort that the Ministry of Health has made is not just a situation where we come on weekend and we try to preach on the issues as it relates to gender violence. But somewhere along the line, we have to get our young men to take heed to what's going on. It's a sore on our society," Mendonca stated.
Presenting the MoPH's position, PRO Esseboom highlighted its strong stance against the committing of such heinous acts. In trying to make a point to the young men present at the event, Esseboom used the analogy of fouls and repercussions in the game of football, relating it to real life.
"Football has rules and you play according to the rules. If you breach the rules, you can be put off the field and allow your team to continue at a disadvantage. Life also has rules and as young men, you are expected to live by those rules. And if you breach those rules, there's no referee there to put you off. There are the Police and the legal system which are much harsher than the referee on the field," he explained.
As such, the Ministry's PRO urged the students to be aware of their tempers, while giving them sound advice about taking positive game related skill sets into their everyday life.
"These are the types of skills that we expect you to graduate from football with and take it into the broader arena," Esseboom said.
"We don't want you to be another statistic in this thing. So understand that there is a great future for you," he charged, after citing shockingly high abuse statistics.
The tournament will commence on Saturday, February 9, with the 24 teams being divided into six groups of four for the round-robin stage.