…says opportunities exist to expand trade & investment
Hailing the bond that Guyana shares with fellow South American nation Chile, President Dr Irfaan Ali has said that there were even greater prospects than ever before for the two countries to strengthen their ties in trade and other areas.
The President on Tuesday evening attended a reception to mark the 212th Independence anniversary of the Republic of Chile. While there, he spoke of the ties between the two countries and how they have a greater chance than ever before to strengthen those ties.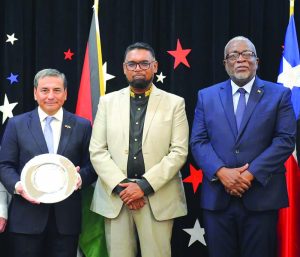 "There is a common quest for sustainable development. Guyana and Chile are now at a place where the prospects of deepening and expanding bilateral cooperation – including trade, investment and commercial ties – are greater than ever before.
"Chile has been a reliable partner in Guyana's quest for peace and progress. I offer to you the gratitude of the Guyanese people and indicate our readiness to further cement the ties that unite our two countries. We must explore ways to bring our people closer together," President Ali said.
The President also acknowledged the shared values Guyana and Chile have, in areas such as democracy and territorial integrity. He also spoke of a food safety authority, which would contribute to Guyana's food export capacity once established.
Chile also came in for praise from the President for the training it is providing to Guyana in maritime port security.
Partnerships
Meanwhile, Chile's Ambassador, Juan Manuel Pino Vásquez also hailed the partnership between the two countries and highlighted the agricultural sector in particular.
"The growing transit of ships and vessels in Guyana, in the middle term, will likely advance to a higher (level) in deepening relations that are mutually beneficial for Chile and Guyana. Strengthening the capabilities of the Guyana Food Safety Authority.
"This initiative complements and helps the idea of the Government of Guyana to transform the country into an agriculture country and contribute to regional food security, by allowing food produced in this country to access the market with ease and at a competitive price," Ambassador Vásquez said.
It was only on Monday that the Maritime Administration Department (MARAD)-DIRECTEMAR (Chile's Port Security) Workshop opened at the Pegasus Hotel. The workshop took shape following discussions between Public Works Minister Juan Edghill and the Chilean Ambassador to Guyana.
At the time, Edghill had emphasised that MARAD would have to expand and be the beneficiary of increased Government investments if it was to meet the growing port security threats that come with Guyana's expansion as an oil and gas producer.
"The fact that our profile has been elevated, our risks have also been elevated. So, we have to ensure that our ports are very safe. And today we're emphasising the issue of port security… I can tell you that our waterways are becoming busier by the day," Edghill had said.
"You're the operators. You're the ones who facilitate and provide services to ensure that our ports function effectively and safely. So, you know exactly what I'm talking about. We have to do things better. We have to be more efficient. We have to be able to embrace international best practices."
According to Edghill, MARAD will also have to expand its operations to better be able to police the ports and waterways. This will include increased capital budgets and adding to its fleet of boats and even helicopter.
But he noted that as MARAD expanded and acquired all these hardware, it was important the maritime body also have people who are equipped with the relevant training. And this is where the training Chile will be providing to Guyana is crucial.
Guyana and Chile established diplomatic relations on July 22, 1971. (G3)