− new GDF Chief-of-Staff promises to boost national defence
Brigadier Patrick West, the man assuming the role of the Chief-of-Staff of the Guyana Defence Force (GDF), has pledged to transform the Force and boost its national defence capacity, as his tenure begins.
West was promoted from Deputy Chief-of-Staff to Chief-of-Staff, taking the oath of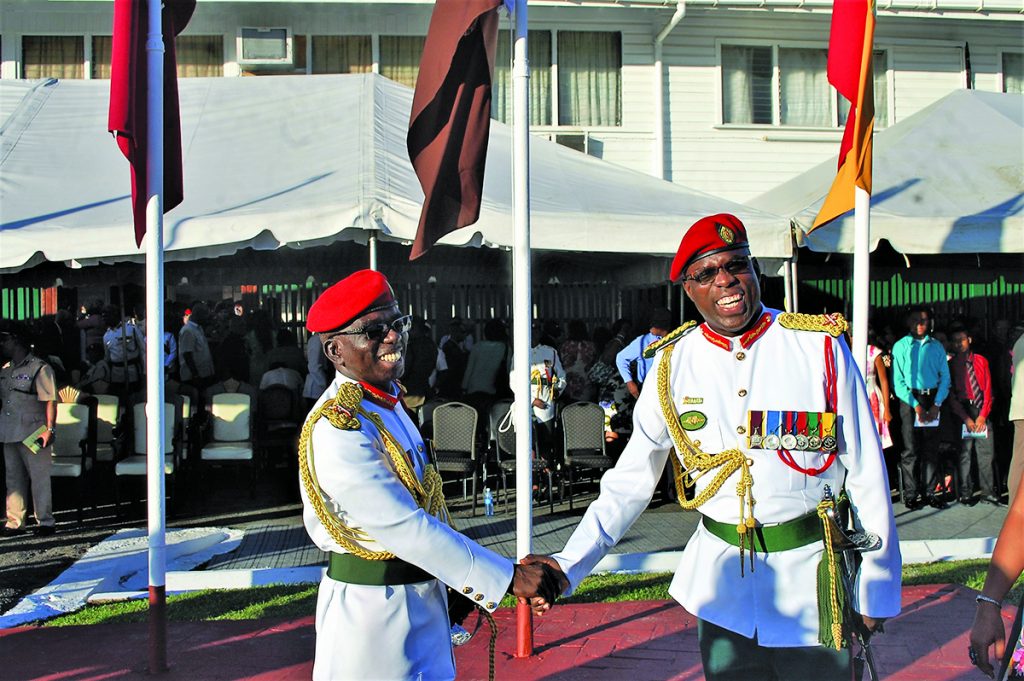 office before President David Granger on Tuesday at Base Camp Ayanganna. The new Brigadier, who has 33 years in the GDF under his belt, succeeded Brigadier George Lewis.
In an interview with reporters afterward, Brigadier West did not divulge details of his plans for the Force or for procuring equipment for the troops. He, however, explained that all proposals were with the Defence Board and strategic considerations had to be made.
He said, "Once those plans are finished, I or the President will make a statement. What I can say is that we will see the Force effectively transformed, for total national defence. That is what we can look forward to."
West also revealed that when he first joined the GDF, he did not think about ascending to the post of Chief-of-Staff. It was only a few years ago that he saw the potential for such advancement and decided to devote himself to getting his degrees, he added.
"I never thought that a day like this would arrive," West, who also received the Military Service Star, said. "Until a few years ago I saw the possibility. So I completed all my required professional military and academic education, so that I could provide the relevant balance, strategic or otherwise, to the Force."
"I will be a just Chief-of-Staff, one who is good and one who is a professional. And I think you can use that as a guideline to observe the tenure of my office."
In his address to the gathering, President Granger underscored that correct procedure was followed in promoting West. Granger also stated that there was no one who could criticise the professional education of West.
"He has completed all his military courses at home and abroad, and his military education is comparable to anything we have seen in the past," Granger said. "The first pillar of his professionalism is his professional education and there is no way anyone could criticise the professional education of Brigadier West," the Head of State said.
West enlisted in the GDF on September 1, 1984 and was commissioned on August 28, 1985, after which he was posted to the Artillery Battalion (an experience he shares with his predecessor). He has held various positions within the GDF, including Platoon Commander and Commanding Officer in both the Artillery and Infantry Units.
He is the holder of a Master of Science Degree in Administration from the Central Michigan University, a Master of Military Arts and Science from the Command and General Staff College, a Bachelor of Science Degree in Public Management, a Diploma in Public Management and a certificate in Human Health and Global Environmental Change from the University of Guyana.
His training has taken him to foreign military institutions such as the Escola de Aperfecion de Officias in Brazil, Intermediate Level Education at the Command and General Staff College at Fort Leavenworth, Kansas and the National Defence University in the People's Republic of China. In addition, he had several peacekeeping modules in Latin America.
Change of Command Parade
Later in the day, discipline and attention to detail were on full display as the Change of Command Parade was completed without a hitch on the parade ground of Camp Ayanganna. Its conclusion marked the end of Brigadier Lewis' 34-year military career. It also marked the end of his three-month stint, the shortest tenure of any Chief-of-Staff.
The brilliant assembly of troops who took part in the parade included members of the Air Corps, Coast Guard and a Special Force squadron. In his parting remarks to them, Brigadier Lewis quoted outgoing American First Lady Michelle Obama in offering advice on dealing with criticism.
"When they go low, you go high," he encouraged.
Lewis encouraged troops to bear constructive criticism with equanimity and to focus on representing the Force in a positive light.
The Brigadier also expressed pride in the fact that he was the first Chief-of-Staff to hail from the Ancient County.