Wales conversion plans?
…no word on poultry, livestock initiatives
By Shemuel Fanfair
Nearly two years after the Guyana Sugar Corporation (GuySuCo) announced that it had intended to convert some 485 acres of land at Wales Estate into rice cultivation, the plots in the area remain desolate, highlighting that the plan has been shelved.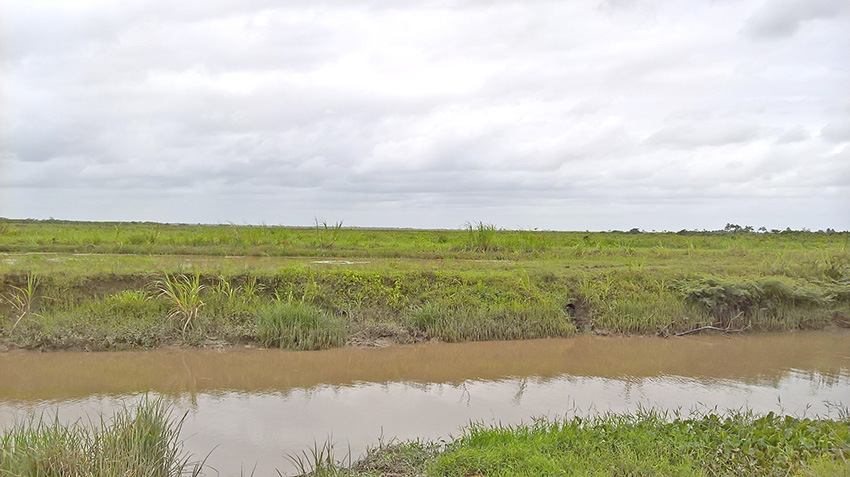 During a visit to Wales on Saturday, residents, many of whom are former workers, highlighted to this publication sections of the land that are being overtaken with weeds. They expressed much dismay that, to date, no rice has been reaped.
Having observed this, Guyana Times contacted acting Chief Executive Officer (CEO) of GuySuCo, Paul Bhim, for an update on the conversion plans, but he related that he would be unable to comment on matters relating to Wales, as that entity has been vested in the National Industrial & Commercial Investments Limited (NICIL).
This takeover was approved by Finance Minister Winston Jordan on December 29, 2017. Wales, in addition to the estates of Skeldon, Rose Hall and East Demerara (Enmore) are now being managed by the Special Purposes Unit (SPU), which falls under the purview of the Finance Ministry.
Speaking in December 2016, Bhim, who also holds the profile of GuySuCo's Finance Director, had told reporters that some 100 of the 1000 Wales workers were identified for the rice conversion plans, including husbandry practices.
"The ploughing of the land has started. The 100 workers will be doing husbandry practices – weeding, cleaning the canals…," Bhim had previously noted.
He had refuted claims of weed overgrowth at lands which were prepared when the Sugar Corporation was managing the entity. Now that a year has passed, Wales residents have stressed, weeds are indeed taking over the supposedly converted rice plots.
However, the current conditions of the lands at Wales are a departure from what Agriculture Minister Noel Holder had expressed last year when he gave indication that the first crop of rice at the Wales Sugar Estate was expected by March 2017.
"I want to make this clear: we haven't closed Wales Estate. It is the factory that has been closed because, according to the CoI (Commission of Inquiry), there aren't any recommendations for the closure of any estate," he had said last year.
In February of that year, the Minister told the National Assembly that the sugar factory would be converted into a business establishment that would see the rearing of poultry and other livestock. Prior to that, Minister Holder had announced in May 2016 that Government was examining the feasibility of converting the factory into plants that would have processed dairy products and fruit juices, among other products.
Termed as the "re-organisation of the West Demerara factory", he contended then that this would have created opportunities for local farmers, as lands formerly used for sugar cane cultivation were meant to be allocated to them for cattle rearing and cultivation of various crops which would have been required for the operation of the juice plant.
At that time, he said, "This administration has now rationalised the Wales situation, where you join Wales and Uitvlugt so that the Uitvlugt factory can now work at 100% efficiency."
The merger was in keeping with Government's plans to diversify and make GuySuCo more efficient. However, the plans never materialized, and retrenched workers have repeatedly complained of their difficulties garnering alternative and consistent employment, which continues to affect their ability to adequately provide for themselves and families.