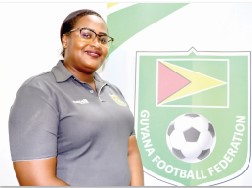 President of the Women's Football Association (WFA), Andrea Johnson, is attending the prestigious FIFA Women in Football Leadership Programme in Switzerland from March 6th to 10th.
The five-day FIFA and UEFA programme is being held in Lausanne, Geneva to promote women in leadership while creating a strong network of leaders who would influence improvement of the sport worldwide and be role models for other women.
"I consider it a high honour and privilege to represent the GFF at this prestigious FIFA/UEFA programme. I am indeed humbled by the confidence placed in me by President Wayne Forde and the GFF Council, and will endeavour to represent Guyana well, and use the knowledge gained to contribute more and build on the tremendous progress we have already made in the growth of women's football in Guyana," Johnson shared.
A total of 36 women from around the world will benefit from specialist leadership training and one-to-one coaching. Johnson will also have a chance to share and listen to personal leadership experiences of women in football, from challenges to victories.
FIFA is investing heavily in the women's game, doubling its funding to US$1 billion with the objectives of growing the game and increasing the number of female players to 60 million by 2026.
Upon her return, Johnson will share her experiences and training with women in football in Guyana.
The GFF remains committed to developing the women's game through continuous investment, training programmes for players and officials at all levels, and national and international tournaments.
This is the fourth edition of the FIFA Women in Football Leadership Programme, which was launched in 2018.