Keep aiming for the stars; the only way for you is up from here. If I retire (as AAG president) today, I will retire a proud man, as you have created a legacy in athletics for Guyana."
Those were the words a deeply gratified Aubrey Hutson, president of the AAG, told Daniel Williams and Chantoba Bright on Friday evening at the Association's Headquarters, as he congratulated the two athletes who returned on Wednesday morning from competing in the IAAF World U-18 Championships in Nairobi, Kenya.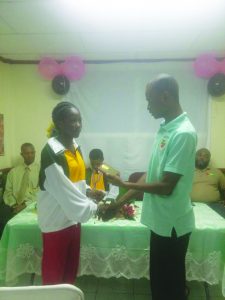 The Athletics Association of Guyana (AAG) held a small appreciation ceremony for these two athletes, and they were roundly congratulated for their performances by various council members, including well known referee, boxing judge and commentator Keith Campbell, who also told the two young athletes that they are making Guyana proud, and also assured them that once they keep churning out those kinds of results, they would be picked to represent Guyana on the international stage.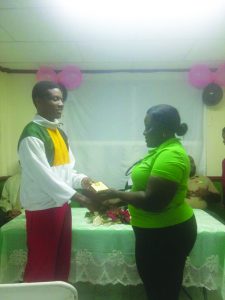 "We are proud of you. Keep working hard, and we will ensure that you represent Guyana on the international stage," Campbell promised.
Also present at the ceremony was Andrea Foster, who competed at the World Championships in Beijing, China in 2015. Saying she knows how hard it is for athletes to gain support to go out there and compete, Foster urged Williams and Bright to aim higher, as "you can turn that World Championship Medal on your neck into an Olympic Gold Medal in 2020."
Williams won silver in the male 400m event with his personal best time of 46.72s, which is now Guyana's National Youth Record and the South American Youth Record. Bright did not medal, but performed well among a field of 15 competitors in the long jump event. She is now ranked fifth in the world among the youth jumpers.