Guyana's reigning National Cycling Champion Geron Williams will be looking to defend his crown today against a field of quality cyclists in the Guyana Cycling Federation's (GCF) National Championship Road Race.
Williams will face stiff competition from Raynauth Jeffrey, who started off the GCF's National Championships on a high by topping the field in the time trials on day one of the Championships on June 17. Jeffrey topped the field in a time of 14:20.25s, while Jamal John came in second in 14:35s, and Romello Crawford clocked 14:58s to close out the top three in the seniors' category.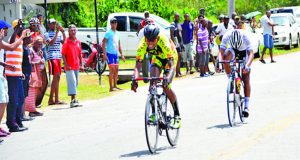 Warren McKay is another worthy challenger. He emerged winner of the road race on day two of the Guyana Cycling Federation's (GCF's) National Championships on June 18 when he crossed the finish line ahead of Leer Nunes, who came in second, and Steve Ramsuchit, who came in third in the U-45 category. McKay finished that race in a time of 2hrs, 58m, 40s. Also challenging for top spot will be Paul DeNobrega, Curtis Dey and Jamal John, among others; however, Williams has been in fine form in the US, most recently placing second at the annual Historic Criterium Cycling Meet in New Jersey, and fourth in the 2017 Harlem Skyscraper Cycling Classic in New York last Sunday.