– to boost other services
The Upper Demerara Hospital (UDH) at Wismar, Linden, Region Ten (Upper Demerara-Berbice) has re-established its maternity ward and several other medical units in an effort to have more patients utilise its services.
Medical Superintendent of the hospital, Dr Steve Mark recently told Guyana Times that over $15 million was spent on upgrading the maternity ward and other units which now boasts several modern amenities.
The stigma of only catering to Human Immuno Deficiency Virus (HIV) infected patients has prevented persons from utilising its services for many years, but according to Mark, there are lots of other services which patients can benefit from as he alluded to brand new and refurbished amenities.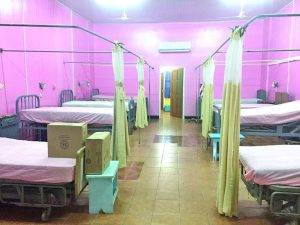 "The maternity ward is opened, it's comfortable, it's spacious…We want to encourage more patients to come and utilise the hospital", he noted. While it will cater for basic deliveries, Mark said systems are in place for emergency cases.
"Right now our maternity ward will do basic deliveries. We cannot do surgeries at this point in time…we can do basic care until we have our operating theatre established…anything that we can't deal with, if a pregnant lady comes with complications we have scenarios worked out in which we can have the consultant come over here and deal with it or if they can't deal with it over here we transfer them readily…If there's a service that the community at large needs we will work to have it provided", he said.
Presently, the hospital has an active maternity clinic, including high risk, antenatal, prenatal, post-natal and teenagers. Regional Chairman Renis Morian recently visited the medical facility where he donated a quantity of baby-friendly items to the maternity department.
Presently, the hospital also offers paediatric services, family health, skin clinic, HIV treatment, x-ray and 24-hour emergency services. Plans are also ongoing to re-establish the male ward.
"We're trying to move it in another direction. So when we're finished here we're hoping to house normal male patients…We had some tiling done and so forth", the Medical Superintendent related.
He added that they are also working to re-establish its paediatric unit. While there is a facility, Mark said it is not functional. Nevertheless, he said the hospital has been seeing a lot of children over the last few months.
"We've been dealing with them. We don't have to send them over the river (to the Linden Hospital Complex at Mackenzie). This is why I'm pushing so hard for a paediatric area, because the other day we had 4 children that drank rat poison and I had to send them over the river for observation, and we have the facility here. We can observe them".
Other units are also expected to come on board shortly, according to the official.
"Also for this year, we would have initiated an orthopaedic clinic that's supposed to start right here at Wismar…and that would be a twice-monthly clinic. It's a new clinic we're going to be starting back every fortnight…We plan [on] doing psychiatry later on. We're getting a psychiatry clinic set up here…We have [a] medical clinic…and we have many other smaller clinics we're planning to bring on board", Mark stated.
A number of doctors are on board, he added, while pointing out that residents need not be afraid to come in and utilise the services.
"We have about five doctors here. We have one doctor doing outpatient…one sitting at [the] Emergency Room…we have three working shifts, Monday to Friday…We want the hospital to work like how it used to back in the day – manage patients, do deliveries. We have plans later to open a minor operation room…we opened a small satellite pharmacy," he noted.
Mark, who has been working at the hospital for about a year and previously at the LHC, said there are a few achievements that he is proud of which he attributes to the hospital's medical system. He said the hospital still has a lot of potential but there is need for it to move forward.
"The same work that I was doing over there to move Mackenzie Hospital forward, the same work I want to do over here", he noted.
He highlighted that Wismar has an approximately equal population as Mackenzie as it relates to healthcare and the hospital is capable of serving the population and even assist other medical facilities.
"Because everybody claiming that Mackenzie Hospital is overworked, overcrowded, you have to wait long and out [patient] waiting time over here is short. We want the hospital to be viewed as a hospital, to be treated as a hospital", Mark said.
"Last year, we spent probably more than $15 million to refurbish the maternity ward…the female ward…electrical refurbishing, we built a guard hut, fence work, we have weekly medical clinic that we will change to 2 days a week… We have family health, HIV, we have a lab", he added.
He further added that the hospital needs the support of not only management but also the Public Health Ministry.