A 52-year-old woman was on Sunday evening hacked to death by her reputed husband at their Goedverwagting, East Coast Demerara (ECD) home during a row over money.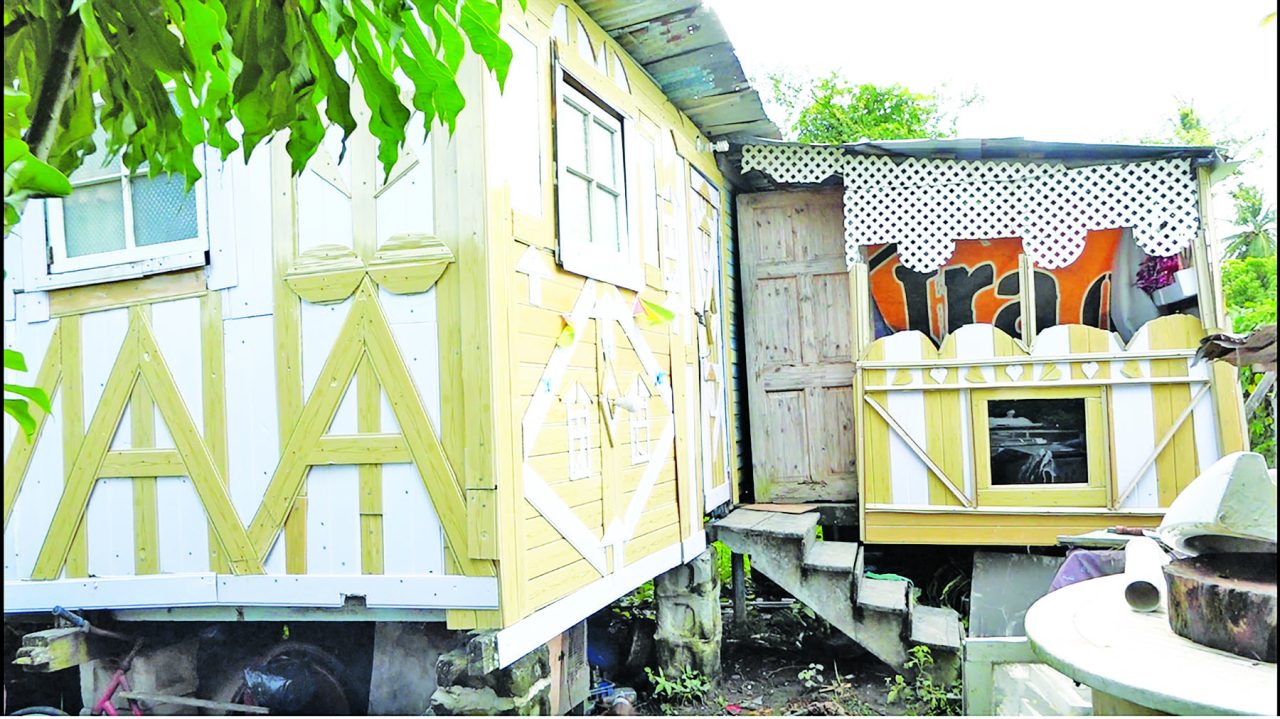 The body of Saskia Perriera of Lot 50 West Road, Goedverwagting, ECD, was discovered hours after the suspect, Samuel Daniels, had inflicted injuries to her body.
At the time of the discovery, Perriera was reportedly wearing a pair of black tights and underwear. There were chop wounds to the forehead, hip, foot, above her eyes and thighs. Marks of violence were also found on her upper back.
Police have since retrieved a blood-stained knife suspected to be the murder weapon at the scene.
Daniels only celebrated his 59th birthday on Sunday and would have invited friends over for a drink. Upon his arrest, he too had several marks about his body including his chest, lip and head. He reportedly told ranks that the now dead woman had inflicted the injuries on him.
He reportedly admitted that he and his now dead reputed wife were involved in an altercation during which he beat her with a cutlass and a piece of wood.
At the scene on Monday, a sister of the suspect explained that it was she who took the woman to live with her brother while noting that the couple would normally have misunderstandings which would lead to them assaulting each other.
"She used to live in town and I ask she to come and live up here… them use to fight bad when they drink… it was a normal thing," the sister stated.
Another sister, Gail Miller, related that her brother celebrated his birthday on Sunday and she was invited but did not show up since she had to look after her granddaughter. However, at about 02:00h on Monday morning, she heard him calling outside her house and went to check.
"I asked him what happened… he come and hug me up and tell me that he going at another sister and he not coming back… again, I asked what happened and then he tell me go see what happen to Saskia but I couldn't leave a the same time…," Miller stated.
Nevertheless, later in the morning, she went to the house and called out to the woman but there was no answer. As such, she left the house and went to his nephew, who lives a short distance away from where the couple lived.
"I tell he that I went and call and nobody ain't answer so he tell me let we go to the station… the Police come and they recognise the body."
Daniels and the now dead woman had been living together for the past 10 years. Miller confirmed that her brother and the now dead woman would normally have arguments which would lead to fights especially when they are intoxicated.
"I never expected for it to be like this," the woman added.
The woman leaves to mourn her 17-year-old son. The woman's body was taken to Lyken's Funeral Home awaiting a post-mortem.