…light vehicles, rations allowed to pass
…fuel to be available today
The deplorable "road" leading to Region Nine (Upper Takutu–Upper Essequibo) has reportedly resulted in a fuel shortage at Lethem, but efforts are now underway to fix the trail.
Lethem residents and minibus operators plying the Lethem–Georgetown route have of recent been calling on the authorities to repair the road. The operators have complained bitterly about the state of the road, contending that it is plagued with humongous potholes and broken and washed away bridges.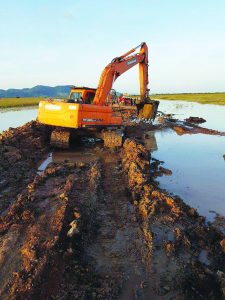 Over the past few days, the stretch of road at an area called 'Hunt Oil' in the vicinity of the Lethem-Kurupukari roadway in North Rupununi has been flooded and rendered impassable, resulting in several heavy-duty vehicles such as fuel trucks being stranded, causing Lethem to face a shortage of gasoline.
Guyana Times was told that the Macedo and Lammy fuel stations have been without gasoline for now several days, while the Takutu Gas Station sold its last bit of fuel on Friday. This shortage causes a major loss of revenue for the Region, since vehicle owners are going over to neighbouring Brazil to fuel up.
However, even then, the burden has increased on vehicle owners, since they are forced to pay some $125 more per litre over the border in Brazil than the cost here.
This newspaper understands that Regional Contractor JR Ranch commenced remedial works on the Hunt Oil stretch of road on Friday afternoon, and is expected to fully complete the works by Monday latest. It has been reported that in the meanwhile the contractor has rendered assistance to some of the stranded commuters plying the route.
Guyana Times was told that as at Saturday midday, the contractor was able to partially repair the road and make it passable, but only to light vehicles. This publication was told by sources in the region that just before midday on Saturday, trucks laden with ration and other commodities crossed the road at Hunt Oil Stretch and arrived in Lethem.
While it is unclear whether the road would be re-opened to heavy vehicular traffic during this weekend, sources say the fuel tankers that were stranded in Annai were expected to cross over into Lethem at sometime on Saturday evening.
Rambarran, who is renting the Macedo Gas Station, one of the facilities that were forced to close down operations after running out of fuel, had indicated that gasoline will be made available for sale today.