…says Govt's announcement insensitive
The Working People's Alliance (WPA) has dubbed as "insensitive" the announcement of WPA leader Dr Rupert Roopnaraine's shift to the Ministry of the Presidency, especially since it was done on the very day which marked the death anniversary of founding leader Dr Walter Rodney.
The political party has been raging over the removal, or what it considers the demotion of Dr Roopnaraine from his senior ministerial post, especially since there was no consultation done.
"We feel that it is high time that the Government of this country set a new tone… 37 years after Rodney's assassination, it is time that those in power come to grips with the fact that Walter Rodney was easily the most famous Guyanese academic and political activist of the latter part of the 20th Century and so we are very, very concerned that the Government would make that announcement on that day," Executive Member Dr David Hinds said.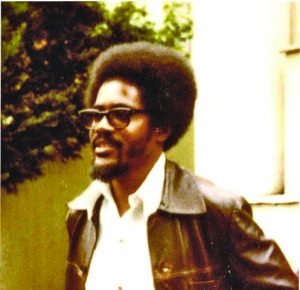 The WPA reiterated that while it did not question the President's right to determine where in the Cabinet Ministers were asked to serve, the fact that it was part of a partnership and coalition and the Minister in question was an Executive Member of the WPA meant it would have been prudent and respectful to consult with it before making a decision.
The party said it disagreed with the President's notion of consultation in this instance.
"For us, consultation constitutes active engagement prior to decision making. We cannot accept that notification of a decision after it has been made amounts to consultation. However, we hope that in the future, we can find common ground on this matter," the party said.
According to the party, it used the opportunity at the meeting to relay to the President its belief that Government and not parties should govern.
"Hence the WPA has no desire to interfere with the day-to-day business of Government. It is, however, our firm view that as a partner in the coalition, we should play a meaningful role in shaping the general vision and programme that inform the direction of the Government. In this regard, we suggested to the President and his team some areas in which we feel the WPA has an immediate interest in helping to shape thinking and policy."
In particular, the WPA expressed the view that the transition to a "green state" cannot be actualized outside of the decentralisation of the current State apparatus. It said this was critical, since the party was of the view that the nature of the State was an important aspect of national development. Other areas touched on during the meeting were the sugar and rice industries, the imminent oil economy, social cohesion, and the education sector.
"WPA feels that the most important outcome of the meeting is the decision to hold an APNU meeting on July 22, 2017. We see this as a major breakthrough, since the APNU has not met for almost two years. It is our view that much of the discontent and concerns arise out of the failure of the APNU to function. WPA hopes to further press its case for a deepening of relations and meaningful participation within the APNU and the broader coalition at this meeting."