The Guyana Olympic Association (GOA) has chosen to celebrate World Olympic Day in a meaningful way: by taking a direct approach to combating the deadly coronavirus (COVID-19) disease.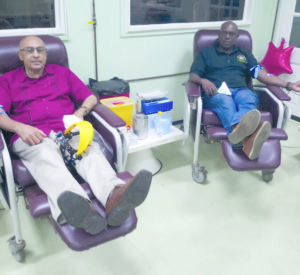 While World Olympic Day is usually celebrated on June 23, the GOA had previously told this publication that that day would not be observed on that exact date, but rather after time had been taken to find activities suited to commemorating the occasion.
The first event hosted by the GOA to commemorate the day was an exercise challenge posted on its Facebook page. That challenge is, however, yet to garner a response from local athletes.
The second activity commenced on Tuesday and hit closer to home, especially with a global pandemic bringing the world to its knees. The GOA organised a blood drive that would significantly benefit victims of the disease.
"We are asking all of the members of our affiliates, if at all possible, to donate blood at the Blood Bank at Lamaha & East Streets," a statement from the GOA informed.
On Tuesday, President of the Guyana Olympic Association, K.A Juman-Yassin, and President of the Guyana Boxing Association (GBA) Steve Ninvalle, donated blood to the Blood Bank as part of Olympic Day activities. Ninvalle and Juman were the first to donate blood in support of the activity.
The Olympic Day activities will continue today with a GOA-organised Zoom Fitness event which starts at 6:30pm. Utilising the Zoom Meeting Platform, there will be half hour of aerobics (Jazzercise) from 6:30-7:00pm, then 10 minutes of strength exercises. The link to the Zoom room can be found on the Guyana Olympic Association's Facebook page.