A young policeman attached to Police Headquarters, Eve Leary, Georgetown, who represented the Force at the Sixth Inter-American Youth Forum and the 27th Scout Conference in Panama from November 21 to December 3, 2018, has been rewarded for being an excellent ambassador and for his impressive presentation at the seminars.
The award ceremony was done at the Police Commissioner's Conference Room, Eve Leary in the presence of Police Commissioner Leslie A James and other senior ranks.
Twenty-year-old Cub Scout Leader, Constable Ronaldo Torres, who was among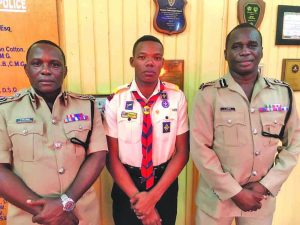 260 participants from a number of countries at the forum and conference, said it was a life-changing experience for him to have left these shores for the first time and to have been able to interface and interact with persons of diverse backgrounds.
The Cub Leader related that the programme was an educational one which would support the process of developing new youth participation activities in partnership with adults and youth members.
He added that the programme empowered and inspired young people through a participatory approach, helping them to develop skills in decision making, which could be used within scouting and in the wider society.
Torres, who is a member of the D Division Headquarters Scout Group and received his formal scout training under the astute leadership of District Scout Leader Judy Alves, was articulate in his delivery, which earned him an on-the-spot promotion to Lance Corporal and transfer to the Scouts Office at Eve Leary, where it is envisaged that his services would be fully utilised in training of members of the scouts and youth groups.
The administration of the Force, in its reformation plan, is ensuring that members with the requisite education, skills, talents, knowledge and experience continue to be given the opportunity to lead, so as to reveal their true leadership potential.
An elated Lance Corporal Torres, who resides at Stewartville, West Coast Demerara, is slated to attend a training seminar this Saturday at the Police Officers' Training Centre, along with instructors of the Felix Austin Police Colleges, in Methods of Instruction.