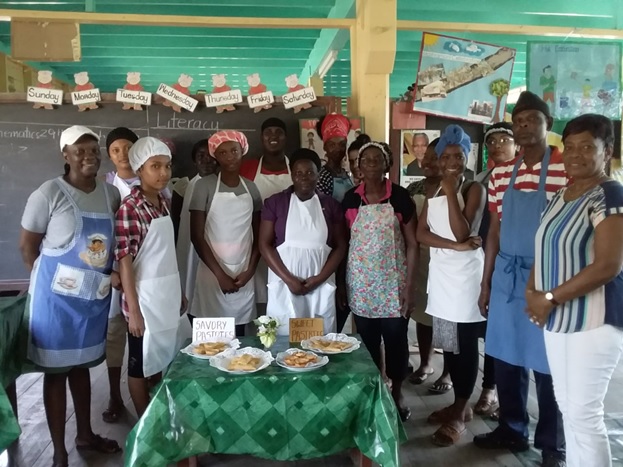 In a move to reduce or possibly eradicate cases of poverty in Essequibo, the Guyana Foundation has been offering a number of training programmes, specifically in Mashabo village, Wakenaam and Zorg-en-Vlygt.
These programmes, which include training in fabric design, home economics and cosmetology, represent training of the first of its kind, since they are all being conducted at the same time while being facilitated by different trainers.
In the village of Mashabo, situated on the Ituribisi Lake in Region Two, an ongoing fabric design programme is being conducted by Abiola Ulele Garraway, an accomplished craft maker and agriculturalist. Semi-finished products that were made by the participants are already being shipped overseas to have the finishing done.
Persons on Wakenaam Island, situated at the mouth of the Essequibo River in Region Three, are benefitting from home economics courses facilitated by Glynis Streete. These courses are being taught with the aim of assisting those participants to become entrepreneurs.
Persons residing in Zorg-En-Vlygt village, on the Essequibo Coast in Region Two, are benefitting extensively from a cosmetology course conducted by Gem Britton, a beautician and business owner. The training has seen 24 participants presently, who are being trained to do pedicures, manicures and facials.
Founder of the Guyana Foundation, Supriya Singh-Bodden, has said, "If you are not willing to learn, no one can help you. If you are determined to learn, no one can stop you. Our mission is to bring a ray of light into people's lives; it is up to them to make it burn bright to uplift themselves and their families."
In keeping with its vision, the Guyana Foundation has, over the years, been offering extensive training programmes in a variety of disciplines with the aim of giving persons a chance to learn how to generate income.