– after fighting over questionable contracts
By Andrew Carmichael
Two officials from the Alliance For Change (AFC), who were arrested on Monday, were on Wednesday hauled before Magistrate Alex Moore in New Amsterdam after a fight between the two erupted at the Regional Democratic Council (RDC)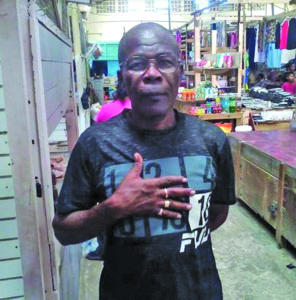 compound in New Amsterdam, Berbice.
The fight was allegedly over contracts for school repairs.
AFC Regional Vice Chairman Michell McBean, 60, of Liverpool Village, Corentyne, was charged with unlawfully assaulting Joseph Baichu, 52, of Number 45 Village, Corentyne on Monday last in the vicinity of Republic Road, New Amsterdam.
Magistrate Moore also read a counter charge to Baichu stating that on the same date, time and place, he also unlawfully assaulted McBean.
Both men pleaded not guilty to the charges and told the court that they were friends and did not wish to give evidence against each other.
McBean said he wanted the friendship to continue, but Baichu said he no longer wanted to be friends with McBean.
Since they had both told the court that they did not wish to give evidence, the Magistrate dismissed the matter.
Baichu is the Secretary of the AFC and also an executive member of the party.
Both McBean and Baichu had been candidates on the APNU/AFC coalition election list. They are now both contractors executing work for the Region Six
(East Berbice-Corentyne) Administration.
Reports indicate that Baichu was awarded three contracts to repair schools in Region Six, but he was not capable of fully executing these regional contracts so he sub-contracted the work.
The contract for repair work on the Number 59 Nursery School he reportedly sub-contracted to another contractor; while the contract to repair the Mibicuri Primary School and a similar contract to repair the Winifred Gaskin Secondary School Baichu allegedly sub-contracted to McBean.
The Mibicuri Primary School contract is worth $1,142,999 and the Winifred Gaskin Secondary School contract is worth $1,707,339.
The work has been completed and the cheques were handed over on Monday to Baichu. When payment was made, McBean was at the RDC for his cut.
Investigators were told that Baichu refused to go to the bank, resulting in an argument and subsequently a scuffle in the presence of many RDC workers. The matter was reported to the Police and they were both arrested.
Meanwhile, works committee members have raised concerns over the quality of work being carried out by some regional contractors.