The long overdue 5.4-megawatt power station was commissioned on Saturday morning at Anna Regina, Region Two (Pomeroon-Supenaam).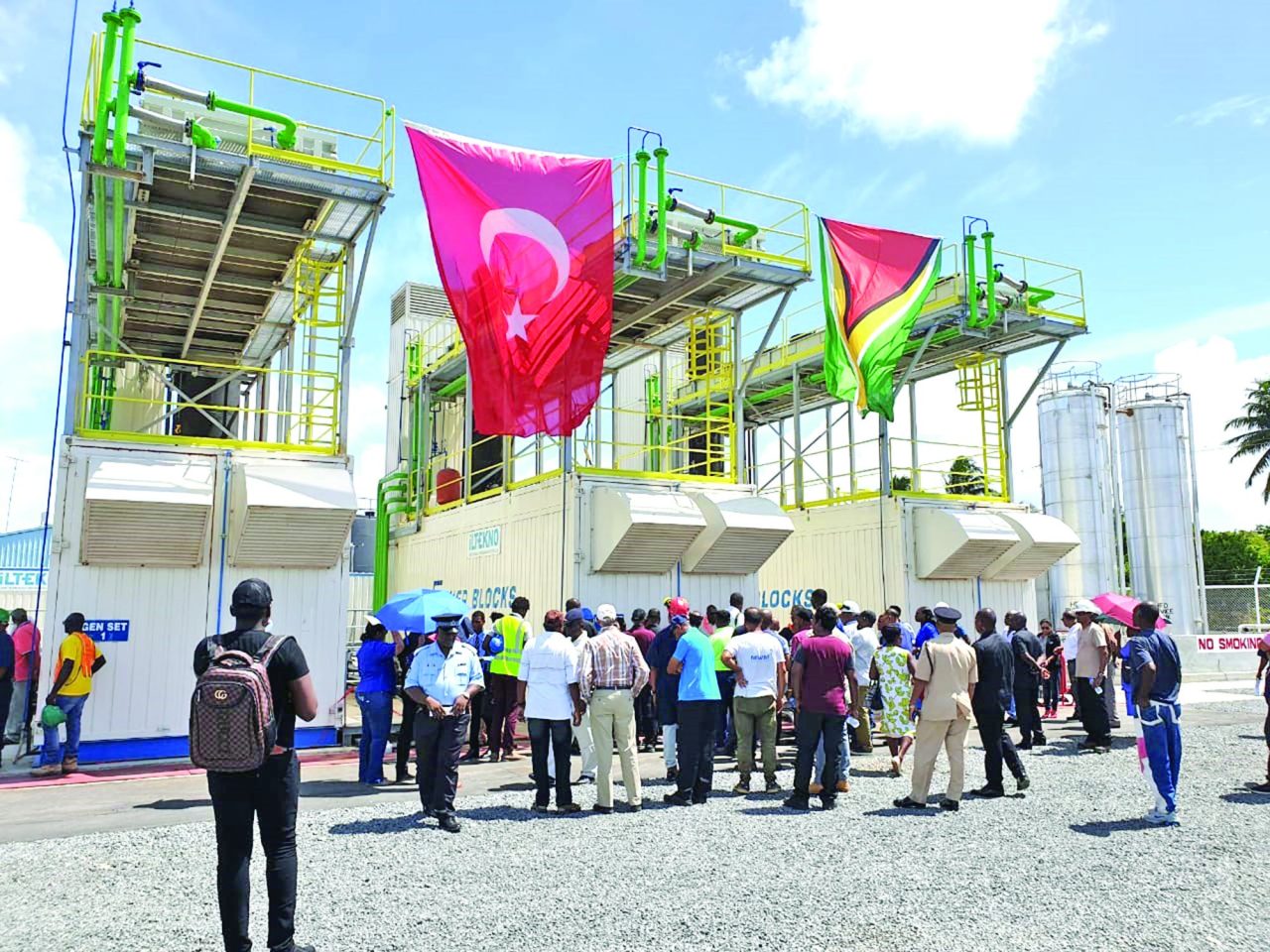 Three of the Caterpillar generators will be stationed permanently at the powerhouse on standby in case of emergency or servicing, thus avoiding long periods of power outages. The new generators were in operation since December 2018 as part of a testing period and were handed over on Saturday after approval.
The new power plant was commissioned by Prime Minister Moses Nagamootoo, who urged engineers of the Guyana Power and Light (GPL) to take good care of the equipment. He noted that the three generators have a life span of over 20 years and with a capacity of 5.4 megawatts, they will be able to supply the entire Essequibo Coast at peak hours with kilowatts to spare.
Meanwhile, Public Infrastructure Minister David Patterson told residents that they will now receive a more stable and reliable flow of electricity.
Patterson added that the foundation for a fourth generator is already in place and that Government will soon be importing another generator to take care of the growing needs in the region.
In 2017 and 2018, residents living along the Essequibo Coast were plagued with a series of nonstop power outages, which have affected persons throughout the region. At the time, residents had said that they had lost faith in the Guyana Power and Light (GPL) which they said was incapable of ending their woes.
In 2018, only two of the five standby generators at the Anna Regina Power Station were up and running. As such, engineers are appointed to work on a 24-hour shift.
It was related that residents have been affected by this issue, which is a major inconvenience. Additionally, the business community in the region had complained about the significant losses which are incurred, since frozen items thaw and spoil. Further, this publication was told at the time that there was a heavy cost attached to running individual standby generators and the high fuel prices were adding to the burden of residents as well as the wider business community.
In August 2018, the Essequibo Chamber of Commerce and Industry (ECCI) had called on Government to intervene to alleviate the blackout situation since residents, especially the business sector, expressed their fear of losing millions of dollars in cool storage items.
ECCI President, Suean Seewnarayan had told Guyana Times that the commerce in the region was collapsing due to the poor service offered by GPL. She revealed that businesses were dumping products and those who have standby generators are pumping thousands of dollars into fuel and maintenance costs.
The Chamber had said Government was silent on the very important issue.