Eight persons were air-dashed to the city from Region One (Barima-Waini) on Saturday afternoon to the Georgetown Public Hospital Corporation (GPHC) for further treatment after they were displaying symptoms attributed to the H1N1 virus (swine flu). All eight persons are Chinese who were working with Guyana Manganese Inc in Region One. Another employee of the company, who displayed the same symptoms, has since died. His body was, however, left in Region One.
Guyana Times was told that among the symptoms which the men displayed were fever, cough, headache, body ache, respiratory issues and unstable vital signs.
This publication was told that on receiving reports of the suspected H1N1 virus, officials at GPHC began taking precautionary measures by quarantining an area for the eight patients.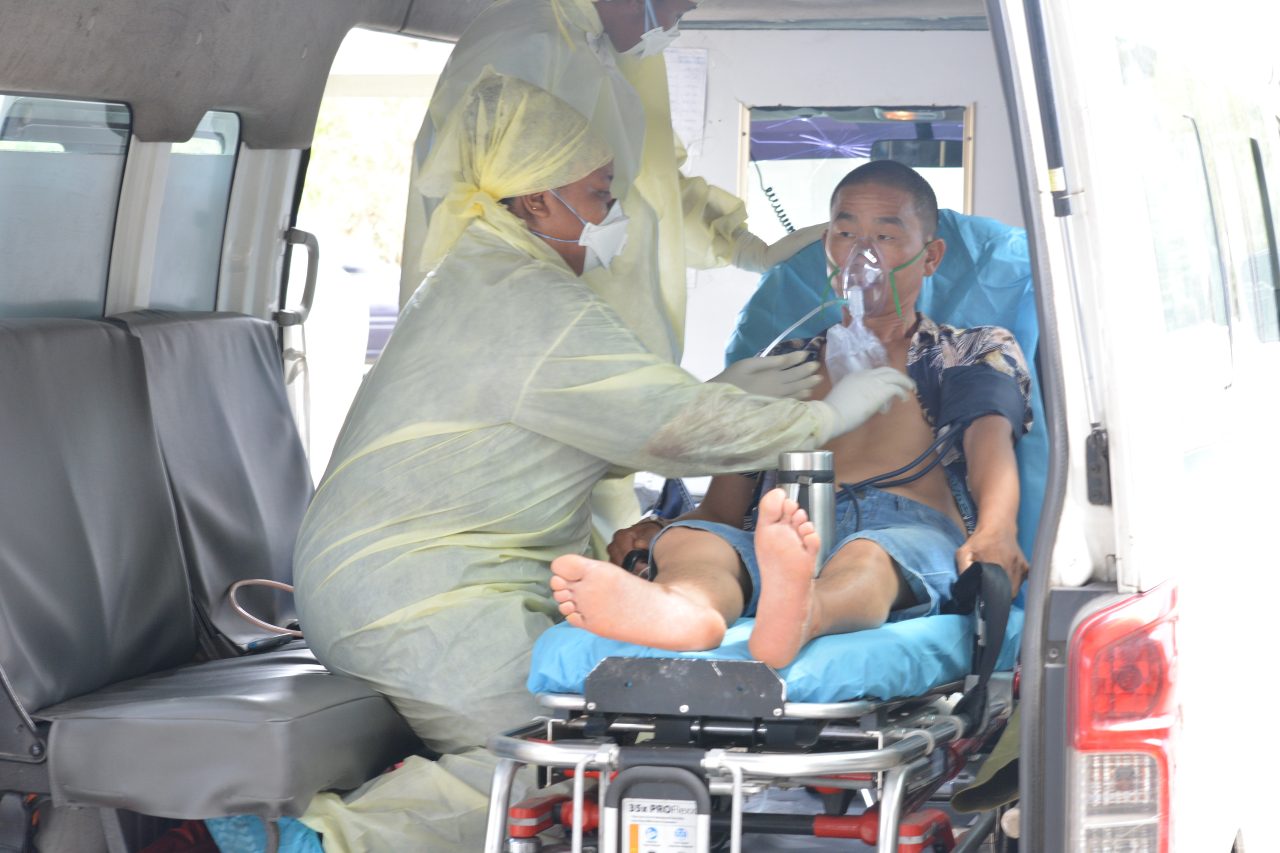 When this newspaper contacted the hospital for a comment on the matter, officials were tight-lipped. However, when contacted, Chief Medical Officer, Dr Shamdeo Persaud said that it is too early to presume that the men have "swine flu, dengue, or any other deadly disease".
"It would be crazy to say they have this or that because tests have to be conducted before any disclosure is made in this regard. What I can say is that we received reports that these men fell ill in that area (Region One) and they had to be brought to the GPHC. We are doing tests but have to wait on results before pronouncing and as soon as we know what they have we will let the public know," he told Guyana Times on Saturday afternoon.
But even as the hospital is yet to diagnose the men, Regional Health Services (RHS) Director, Dr Kay Shako denied that the men are suffering from swine flu.
Reports are that a medical team from the Mabaruma Regional Hospital had been deployed to the Matthew's Ridge area following reports that some persons were exhibiting signs and symptoms caused by contracting the deadly disease.
At about 14:30h on Saturday, four ambulances with medical staff, who were all suited up with protective gear, arrived at the Eugene F Correia International Airport to receive the patients, who were medevaced from Region One by Roraima Airways.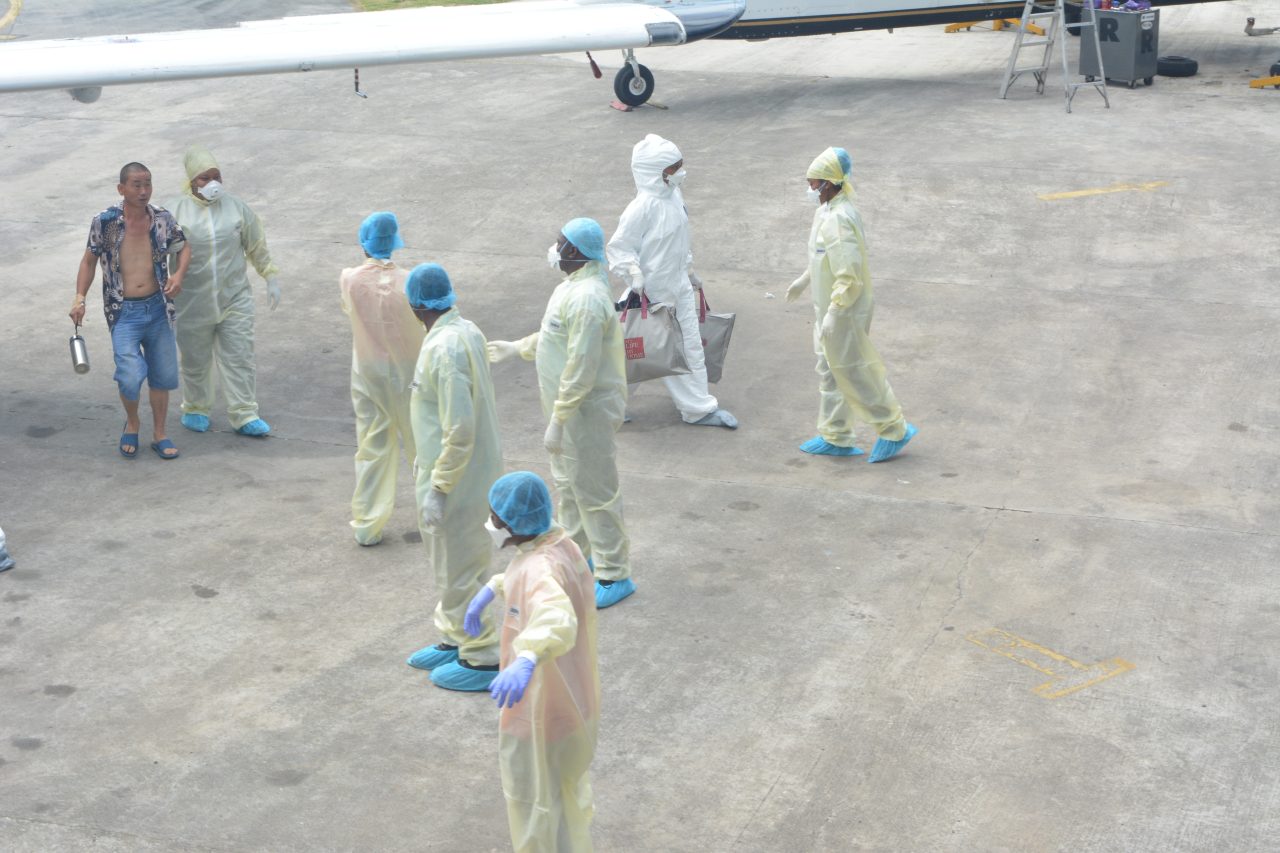 When Guyana Times arrived at the airport, the men were seen exiting the aircraft coughing and had to be helped by medical personnel to reach the ambulances.
This newspaper was told that the men were taken to Region One as labourers and were clearing a mining site when they fell ill. Attempts by this newspaper to contact the Ministers of the Public Health Ministry for an update on this situation proved futile.
Just a few months ago, in January, Minister within the Public Health Ministry, Dr Karen Cummings said that the re-emergence of the H1N1 virus (swine flu) in the Caribbean Region is cause for great concern among public health officials throughout the region, but Guyana has already been on heightened alert since the discovery of the H1N1 virus in neighbouring Trinidad and Tobago.
At that time, the Ministry had voiced its call for persons to practice good hygiene – washing your hands frequently with soap and water or using alcohol-based rubs and to cover your mouth and nose with a tissue when sneezing or coughing.
Avoid touching your eyes, nose and mouth and avoid close contact – you are expected to be about six feet away from a person suffering from the H1N1 virus.
Persons are being advised to drink plenty of fluids, stay at home, rest to treat the fever and see your primary care physician should they contract the virus. Healthcare workers are asked to ensure that they practice infection control and use personal protective equipment.
Some of the symptoms of Swine Flu are: Fever (but not always, chills, cough, sore throat, runny or stuffy nose, watery, red eyes, body aches, headache, fatigue, diarrhea, nausea and vomiting