A 10-year-old girl has been discharged from the hospital one day after she was involved in a horrific accident along the Loo Creek Public Road, Soesdyke-Linden Highway, which claimed the life of her mother.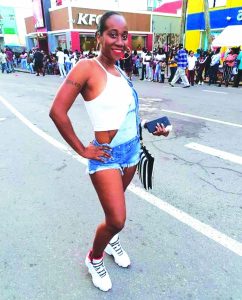 Police Headquarters on Monday said that Kiara Cush, the daughter of 35-year-old Natoya Narine, who was killed in the accident, was
treated for a fractured leg and sent away.
Narine, of 366 One Mile Wismar, Linden, Region 10 (Upper Demerara-Berbice), and formerly of Basseterre, Saint Kitts and Nevis, died after she lost control of the motor car she was driving on Sunday morning.
The woman, who was reportedly intoxicated, was driving motor car PWW 8641, proceeding north along the western side of the road at a fast rate of speed when she lost control of the vehicle.
The car turned turtle several times before coming to a halt on its right side on the eastern side of the roadway.
Narine was taken out of the vehicle in an unconscious condition by public-spirited citizens and taken to the Linden Hospital Complex where she was pronounced dead on arrival.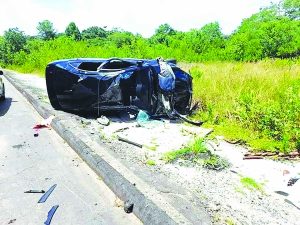 Her body is presently lying at the Wismar Hospital Mortuary awaiting a post-mortem examination. Besides Narine's daughter, her boyfriend, 45-year-old Andy Beaton and his three-year-old daughter, Andyha Beaton, were also in the vehicle at the time.
Andy Beaton was admitted to the hospital as a patient suffering from head injuries, while his daughter was treated for minor lacerations and discharged. At the time of the accident, the family was reportedly making their way to Georgetown. Police investigations are ongoing.
Guyana Times understands that Narine had been living in Saint Kitts and Nevis for about 10 years and only came back to Guyana two years ago after her younger brother, Corporal Seon Rose of the Guyana Defence Force (GDF), was killed in an explosion aback the GDF's Coast Guard location at Ruimveldt, Georgetown.
The explosion had occurred while soldiers attached to the GDF Artillery Unit were preparing for the fireworks display to usher in Guyana's 50th Republic Day anniversary, which was subsequently called off.
Rose had sustained third-degree burns about his body and reportedly died while receiving medical attention in the Burns Unit of the Georgetown Public Hospital Corporation. (G1)