In the coming months, upgrade works for 16 health centres across Region Seven (Cuyuni-Mazaruni) will be rolled out to provide a comfortable experience and environment for patients.
Health Minister, Dr Frank Anthony announced the works on Thursday as part of a $100 million project. The rehabilitative works will include expanded and new additions to the facilities.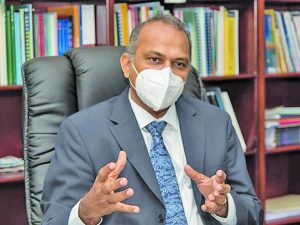 "We have been working with the region and we have identified approximately 16 different health centres. In those health centres, we will be doing some upgrades. These upgrades would include developing waiting areas or enlarging the waiting space for patients. In some cases, it is adding washrooms for patients and some of the facilities might have leaky roofs or windows. So, we're generally going to use the money to enhance the facilities that we have there," Dr Anthony divulged.
The Minister informed that these works will be tendered shortly, as authorities aim for a three-month window until the completion date.
"Once the work is done satisfactory, I think patients that have to use the [health centres] would have a better facility, a better environment which they can come to get healthcare."
This development follows a recent visit by the Minister to the region, where a newly constructed Maternal and Child Health Centre was commissioned in Bartica to the tune of $26.3 million. For the year 2022, Government plans on injecting a whopping $73 billion into the healthcare sector. This was an enormous increase from the $53.5 billion in 2021. From this figure, $1 billion was set aside for upgrades to health centres and an additional $2 billion for medical and non-medical equipment.
There are several larger projects on the Ali-led Administration's agenda, geared at decentralising healthcare and enabling easier access for Guyanese.  A major initiative is the construction of a new $2 billion multi-specialty hospital at Suddie, Region Two (Pomeroon-Supenaam).
The Governments of Guyana and Austria are also finalising talks in relation to the construction of a much anticipated maternal and children hospital in Georgetown.
Meanwhile, the smart hospital project is in its final stage, linking structural and operational safety and disaster resilience, while maintaining a "green" status in operations. Hospitals at Diamond, Leonora, Mabaruma, Paramakatoi and Lethem were upgraded under this project. The concept comes under an $835 million grant funded by the former United Kingdom Department for International Development and implemented by PAHO.
Funded through a grant from the Indian Government, upgrades to the West Demerara Hospital in Region Three (Essequibo Islands-West Demerara), Suddie Hospital in Region Two (Pomeroon-Supenaam) and Bartica Hospital in Region Seven (Cuyuni-Mazaruni) will also materialise.