A dream of over seven months finally became a reality when a Bartica businessman cut the ribbons to his fun park establishment, the first of its kind in the newly acclaimed town.
Gray's Family Fun City provided a more than $10 million investment into an economy that has been stuck in a coma owing to the falling gold prices and the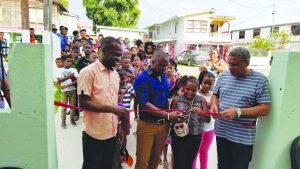 comparatively poor performances of several other sectors.
Miner Richard Gray conceptualised the idea in July 2016 following years of lamenting the dismal fact that there was no appropriate place to take his children for an afternoon or weekend of entertainment.
"Bartica needed something more for children to enjoy. So one day I was thinking about what more I can do for children, something that my children can enjoy, not just other children. You don't wanna just pour everything into mining, you wanna diverse into something else so I started to research on this fun park," he told Guyana Times during an interview.
Bartica, renowned as the "Gateway to the Hinterland", is located in Cuyuni-Mazaruni (Region Seven) and is relatively known for its tourism attractions such as waterfalls and aqua resorts.
The once-booming community was bestowed with its township status in 2015 by
President David Granger.
However, the town barely boasts entertainment hotspots, especially for children.
There is a seaside playground with a few swings, slides and seesaws as well as a time-honoured game shop with a wide selection of popular video games.
"I have two kids and they always like going places; my daughter went to Disneyworld with me and then when I son born, you always wanted somewhere to carry these kids and in Bartica, there was nowhere appropriate for children to go play and have real fun. They have a park where they sell ice-cream and so, but I think Bartica needed something more," he explained.
Currently, Gray's play park has several arcade games such as basketball, shooting games, car and motorbike racing and the gift machine.
But it does not stop there as the businessman has great plans to develop the facility.
In fact, he may probably act sooner than later as a result of the long lines of excited children who flock the fun park for a chance to partake in the frolic.
"I have plans to develop the facility. Currently, the site is not big, there are long lines and kids have to wait before they can go on a game," he stated.
Notably, Gray said he has employed very strict control measures to ensure children do not ditch schools to play in the arcade.
Gray's Family Fun City is located at Second Avenue, Bartica.