Prominent Attorney-at-law James Bond was on Sunday elected to lead the Guyana Chess Federation (GCF) when that body held its Annual General Meeting and elections at the Guyana Olympic House.
Bond, who takes over at the helm of that body from Irshad Mohammed, has had extensive experience in leadership capacity, and took the post along with his team uncontested.
Along with Bond, Frank Farley will be responsible for the dual position of Vice President and Vice President with responsibility for Development. His responsibilities include breaking new ground for chess in rural and hinterland communities and schools.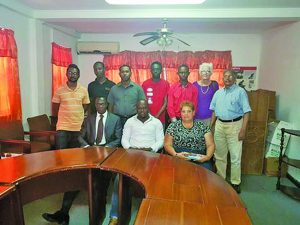 Yollanda Persaud is responsible for Fundraising, and is Vice President of Finance and Sponsorship. Her responsibility will be the general management of the financial resources of the Guyana Chess Federation, and she would have to secure sponsorship for the activities of this association.
Tournament Director and Vice President of Competitions is Irshad Mohamed, the immediate past president of the Guyana Chess Federation. He will be responsible for the hosting and management of local competitions and for that body participating in competitions overseas.
Natasha Singh, the confidential secretary for Attorneys-at-law Mark Waldron and Ronald Burch-Smith, is the association's new secretary, while Davion Mars has been elected Treasurer and Wendell Meusa is the National Trainer. Anthony Drayton, Maria Thomas and Ryan Singh have all been elected committee members.
Bond expressed gratitude to Antony Drayton and Wendell Meusa for encouraging him to run for the post, and for having taught him how to play the game. According to Bond, under his leadership, chess will see national resuscitation; expansion of the sport into rural and hinterland communities; greater focus on participation of women and youth; national schools' competitions conducted annually; and a National Chess Scholastic Centre which will be a state-of-the-art facility.
To realise this vision, Bond said, he will donate 12 tablets, a projector and screen, and a laptop to the Guyana Chess Federation. He said the chess curriculum in schools with a focus on teachers, students and parents will begin at the primary level, and there will be partnerships with private sector entities, Government and the international community.
He said the economic viability of the sport will be enhanced through aggressive marketing, innovative fund-raising ventures, and the securing of sponsorships; and accountability and transparency, discipline, performance-based incentives for executives and stakeholders would follow the reform of the Guyana Chess Federation Constitution.
Bond reiterated his pledge to promote chess among women, and has committed to working with the differently-abled. He has also indicated to the representatives from Berbice that forming a Berbice Chess Association is a priority of the new body.