A reportedly drunken driver is now in Police custody after the minibus he was driving along the East Coast Berbice Highway slammed into a tractor trailer, injuring 11 persons.
In a release on Friday, the Police said an intoxicated 47-year-old minibus driver along with a 45-year-old motor lorry driver were both in custody assisting with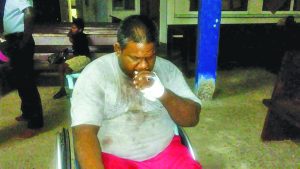 investigation.
According to the release, five of the eleven passengers of the minibus are still hospitalised — four at the New Amsterdam Hospital and one at the Georgetown Public Hospital. They are each said to be in stable condition.
Shazar Kiodeen, 8, was transferred to the Georgetown Hospital; while Niesah Kairodeen 13, Fayila Kairodeen 10, and Ryan Garian,10, were admitted at the New Amsterdam Hospital.
Mohamed Safraz Kairodeen, 43; Natraini Chari Narine, 44; Lilawattie Basdeo, 27, Keshan Looknauth, 5, Yashty Looknauth, 3, and Ddenish Lookanauth were treated and sent away.
Investigations revealed that motor lorry GLL 8559, with trailer TSS 458, was proceeding east along the northern carriageway while the minibus BNN 9791 was proceeding in the said direction. The bus allegedly attempted to overtake the lorry,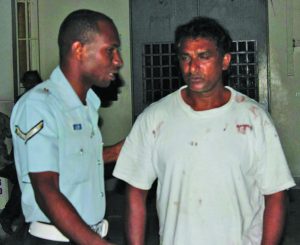 but collided with the rear of the trailer.
As a result of the impact, the passengers, all from Topoo, Albion, Corentyne, received injuries, whilst the driver of the minibus and lorry were unhurt.
The passengers were rushed to the New Amsterdam Public Hospital, where six of them were treated and sent away.
Mohamed Safraz Kairodeen, 43, had taken his wife Natraini Narine to the New Amsterdam Hospital for treatment after she complained of feeling unwell. It was on their way home that the accident occurred.
Kairodeen, who sustained injuries to his face and leg, was sitting in the front seat
along with his three-year-old son when a bright light approaching blinded them, and suddenly the bus hit something and stopped abruptly.
Reports are that the minibus driver is a relative of Natraini Narine. He had rented the bus and travelled to Berbice earlier to spend time with relatives.
According to the Police, breathalyzer tests were administered to both drivers, and
whilst the driver of the lorry, who hails from Nigg Settlement, Corentyne, Berbice, was not found to have any alcohol in his breath, the driver of the minibus was found to be above the legal limit. The legal limit is 35 micrograms, but his alcohol level was pegged at 71 micrograms.