A 12-year-old female student of a school in Bartica, Region Seven, (Cuyuni Mazaruni) was on Wednesday found with a quantity of cannabis concealed in her socks while attending classes.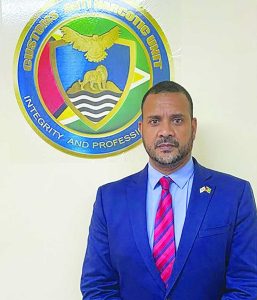 According to reports received, at about 13:00h on Wednesday, June 22, the headteacher reportedly received complaints that students were in possession of ganja in class, and this
prompted her to carry out random checks, during which she unearthed two transparent Ziplock bags containing the cannabis hidden in the student's socks.
Upon being questioned, the student revealed that she got the drug from a female classmate, who claimed to have stolen it from her father.
When contacted, the father in question admitted the narcotics belonged to him, since he would indulge in smoking "weed".
The students were questioned and were scheduled to meet with the Childcare and Protection Agency on Thursday. The father is being questioned by the Police.
Only recently Head of the Customs Anti-Narcotics Unit (CANU), James Singh, stated that CANU would be working closely with other sectoral agencies and the Education Ministry to tackle the issue of illegal drugs making their way into schools.
Singh noted that his unit has welcomed the collaboration with the joint services to ensure that the schools are rid of drugs, especially ecstasy pills. In the past, those pills have been found in secondary schools.
Singh had stated that several new types of drugs are surfacing in society, and CANU would make every effort to get rid of them before the situation escalates.
"So, we're working with the Ministry of Education and other agencies to sensitise and to develop a programme that allows us to go into various schools around the region (in order to) sensitise persons about the effects of narcotics," he divulged.
Further, he said, the community, and more so the teachers, would play a crucial role in assisting CANU to implement the initiative.
"So it's not only about working with the students, but also working with the teachers. They must also be able to see the behavioural patterns of persons; that gives us a better idea if persons are on drugs or something else, so we can work with them also," Singh explained.
The CANU Head added that CANU and the sectoral agencies have been doing some work in several communities, and he implored citizens to come forward with information that could lead to the arrest of drug traffickers in their respective communities.
"We're doing a lot of work in various communities, and the aim here is to target persons who are engaged in selling narcotics, regardless of where, whether it is close by a school or even in that community itself; and that's why again I will ask: if you know persons are engaged in selling narcotics within your community anywhere, let us know confidentially, and we will take the necessary action," Singh pleaded.