The country's first tourism awards hosted on Tuesday evening saw 15 local operators in the tourism sector copping awards in various categories ranging from best in accommodation to best in sustainable tourism.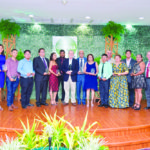 The event, hosted by the Tourism and Hospitality Association of Guyana (THAG) and the Guyana Tourism Authority, acknowledged those who have contributed to the country grabbing a whopping six international awards for sustainable tourism which includes the prestigious award for World's #1 in 'Best of Ecotourism'.
Reflecting on the successful year for the sector, THAG President Mitra Ramkumar lauded his organisation, GTA, and especially those involved in providing various services within the growing industry.
"Guyana has made tremendous strides as a destination and so I believe we all deserve credit for what has been achieved. Tourism is a fragmental industry and so while that can be seen as a disadvantage, I see that as an advantage of how we can all work together for national development," he said
Ramkumar further added that going into 2020, the Association will be working towards a few goals it has set out. These include establishing the anticipated hospitality institute, further promoting tourism sports, expanding the Tourism Development Funds for local operators and working along with the Guyana Police Force for its services in the sector.
Meanwhile, Director at the GTA, Brian Mullis, in his brief remarks, focused on the statistics which prove growth within the sector. He shared the increase in visitors for 2019, the total funds injected from this increase into the economy and other achievements made by the GTA in promoting Guyana as a destination.
"Based on our most recent visitation statistics, we've seen an increase of 8.3 per cent in travellers coming to Guyana in 2019 and based on that average expenditure, this equates to an increase of four billion Guyanese dollars being injected into our economy year over year, from last year to this year….617 people were trained by the GTA, this year over last year, the numbers doubled, so that's a 100 per cent growth," he explained.
Some of the business awarded for their contribution included Cara Lodge, Arrow Point Nature Resort, Bistro Café and Bar, Karanambo Trust and Lodge among others.