Inaugural Rio Indoor Streetball Championships…
ꟷ One step closer to the million…
Coordinators of the inaugural Rio Indoor Streetball Championships, Three Peat Promotions, have declared that all systems are in place for the staging of quarter-final action tomorrow at the National Gymnasium on Mandela Avenue.
An official release has said, "All systems are in place and structures have been improved for a thrilling quarterfinal section which is expected to set the trend for the remainder of the elimination round, and will, without a doubt, captivate the large crowd that is expected to descend on the venue.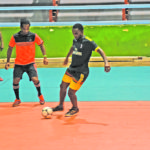 "The excitement and anticipation for the knockout section is at a fever pitch. Although the tournament is in its maiden campaign, it has been very competitive, with several teams more than capable of securing the coveted title and the one million (dollars') first prize, which is the largest ever to be awarded for a community streetball championship".
The quarterfinal match which pits Rio All-Stars against Future Stars promises to be a titanic clash. This will open the evening's proceedings at 20:00hrs. The second match, wherein Leopold Street opposes Gold is Money, is another chapter in the storied rivalry between these established giants. This match commences at 21:00hrs.
In the third match, prolific team Sparta Boss will oppose East Coast Demerara giants Beterverwagting [BV] at 22:00hrs. This will be followed by the feature clash between the formidable Back Circle and futsal heavyweights Bent Street, from 23:00hrs.
In regard to the objectives of the tournament, the correspondence further stated, "The tournament has certainly elevated the standard and the manner in which streetball is viewed. The intention is for several other tournaments to be staged in a similar light, which will add to the growing phenomenon. This is the only way for the quality to be sustained and eventually improved. At the moment, the quality is at an all-time high, and the players, sponsors and fans are directly responsible for such a realization. After all, this format is fixated and focused on the players (and) fans, (and) the communities that they emanate from."
The organizers have also noted: "We are imploring all fans and teams to work together to continue to make the championship an incident- free and thrilling spectacle. We must also thank the lawmen for their contributions. They have carried out their respective duties with aplomb, and are also vital in staging an incident-free competition by providing the necessary security, which creates a welcoming environment for all and sundry."
The grand finale of this tournament takes place on December 14th at the same venue.