T&T RMSL Super Singles Men's Table Tennis Championships…
Guyana's Shemar Britton secured a hard-fought win in the 2019 edition of the Trinidad and Tobago Reliability Maintenance Services Limited Super Singles Men's Table Tennis Championships, played from November 30 to December 5 (yesterday) at the National Racquet Centre at Orange Grove Rd, Tacarigua, Trinidad & Tobago.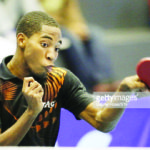 These championships, which attracted more than sixty players, commenced with the group and knockout stages, which lasted from November 30 to December 2; and climaxed on the evening of Wednesday December 4th with the top six (6) players competing against each other on the basis of results of tournaments held in 2019 and advancement from the group and knockout stages.
Such eminent players as Aaron Wilson, who had just returned from a sojourn in Spain; the young and talented Derron Wilson, who also had just returned from a training stint in Germany; the clever and tenacious Arun Roopnarine; new emerging talent Jessie Dookie; the crafty and experienced Aaron Edwards, and the athletic and scholarly southpaw Shemar Britton had all made it through the group and knockout stages, and were each eligible to win the championship.
Competing for the crown was done in a round-robin, gladiator-style format, wherein the last six players each had to play five matches in one evening, with minimal rest for any player.
With each player eager to stamp their authority on these year-end championships in order to end the season on a high, the contest saw some very close, tense, exciting, gruelling and thrilling matches.
Britton entered this competition fresh off a victory in the WASA Open Team championships, having produced a silver medal performance with Guyanese team mate Joel Alleyne, and he had been crowned champion in the Trinbago Men's Singles Open in October 2019.
A Tokyo 2020 Olympic prospect, Britton described the victory in these championships as one of his hardest ever earned, given the physical limits to which he was stretched in securing a ratio of four (4) wins to one (1) loss to finish as the player with the highest aggregate.
En route to victory, Britton defeated Derron Douglas 3-2, Edwards 3-0, and Dookie 3-0; then lost to Aaron Wilson 2-3, before defeating Arun Roopnarine 3-2.
Britton is carving a name for himself in the annals of Caribbean table tennis history. He has several titles to his name: Caribbean under 21 Male Champion 2018; Caribbean Bronze Medalist Men's Team; Men's Singles Champion, and Silver Medalist.
He plans to take a break from his studies with effect from December 18, to return home to Guyana for a short break, before recommencing training and playing in high-level competitions in either Germany or China with a view to preparing for qualification in the Tokyo 2020 Olympics.
The Latin American qualification event for the Tokyo 2020 Olympics is scheduled for April 2020.