Sixteen of the 17 contestants vying for the title of Carib Soca Monarch are one stop closer following the semi-final of the competition on Saturday evening in the mining town of Linden.
Those going through to the finals on February 16 are Jumo Primo, Lil Colywin, Static, Vanilla, Nesta, Sexy Berry, Miss Finesse, True, Ryan T, Real Proof, Passion, Vintage, Natural One, Sasha Melody, Stephen Ramplal and of course, reigning Soca Monarch Brandon Harding who will be defending his crown.
The 17 competitors braved the stage to represent their communities in a bid to be crowned Monarch for 2019.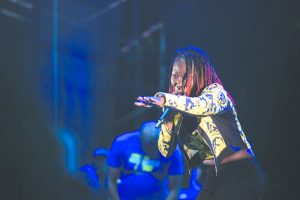 The spectators were on their feet jumping, waving, and gyrating to the songs which carried a wide range of themes. Making the night even more enjoyable was Master of Ceremony Malcolm Ferreira, who had the crowd rolling with laughter with his comical commentary and interaction with the crowd.
Popular local artiste Kwesi Ace and the Fame Band gave a warm-up performance that led the way for the first singer and newcomer, Shaima "Sexy Berry" Muna with her song, "Goddess of Soca". She was followed by Melissa "Ms Finess" Pestano with her "I don't watch no face" performance.
They were followed by soca veteran Jumo "Rubber Waist" Primo, who woke the crowd up with his song "Tribute". With absolutely no costume or props needed, he had the crowd on their feet as he directed their attention to the variety of instruments on the stage as his tune pays homage to the musical instruments and its operators.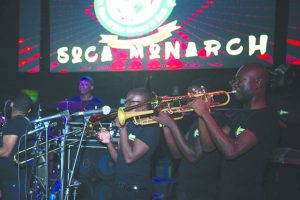 Having been in the business for a number of years, Jumo's performance was no surprise. However, Linden's young monarch hopeful, Roderick "Static" Allicock did not hesitate to hint at his intent to take the crown. With his bouncy lyrics "tell Jumo to go his way, he old and grey" he had the crowd swaying with laughter and cheer.
Lindeners also had an overwhelming response to the other home-grown artistes including, Lil Colwin with his extraordinary performance of "Full Access" and Collin "Real Proof" Prince with his "Push Back" performance.
These Linden artistes did not disappoint as they were ranked among the best performers for the night, as their props with J'ouvert power, water, fireworks, backup dancers, exotic choreography and eye-catching costumes made the show even more satisfying.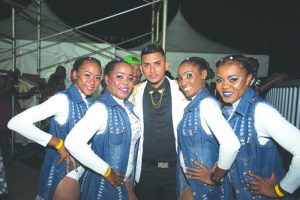 Another of the high-ranking performances for the night was Vanilla's "One Voice" which spoke of the need for Guyanese to shun disparity and live in love and unity.
Soca was on fire in Linden and the judges had a testing time during the elimination process. The competitors were assessed on their song topic, diction, party appeal, stage performance and crowd response among other things.
Reigning monarch, Brandon Harding said, "This is a competition and I thrive on competition. I know I am up against the likes of Jumo and Vanilla and Nesta, and there are some really good songs and good talent who are in it to win it, however, the only person who will beat Brandon is Brandon,"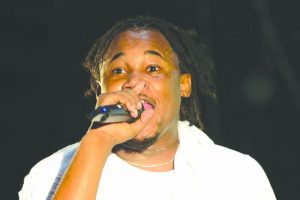 The Carib Soca Monarch will walk away with $1.5 million, while the runner-up will walk win $750,000, while there is $500,000 and $250,000 for third and fourth place respectively. There's also the $100,000 "Best New Comer" prize going to the top novice.