The community of Wakapoa in Region Two (Pomeroon-Supenaam) now boasts a newly-constructed wooden bridge equipped with steel rails and solar lights through a project undertaken by the Public Infrastructure Ministry.
The project was recently undertaken by the Public Infrastructure Ministry at a cost of $19 million.
The Wakapoa residents, especially women who fetch farm produce and children attending school, are very relieved since the bridge serves as the main access on their daily route.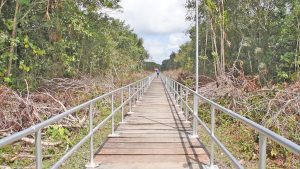 For many years, villagers traversed between the two islands of Mairi to Boroda, walking on logs. Later a small wooden bridge only two feet wide was built, but it became dilapidated and caused several injuries.
The Department of Public Information (DPI) recently visited the community and spoke with some of the residents.
Orlinda Richards told the DPI of her unfortunate incident. "Crossing with my load from Myrie to Boroda my foot went through the old bridge, it was so painful… when my foot passed through the bridge I couldn't pull it back out because it was stuck… when it (eventually) came out it was bleeding heavily …it was rough for the next three months and I had five children to send to school – two secondary and three primary….for 28 years I've been in this community I never seen development but thank God today that I can see this bridge."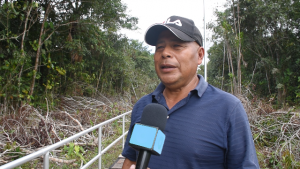 Following her unfortunate accident, the Wakapoa residents collaborated and made the decision to use social media as a platform to highlight their problem.
Resident Joyce Fredricks who was one of those persons said, "We came together and we also prayed about it. Eventually, we got word that persons were coming to inspect the walkway…. and that led to us getting our new bridge and I'm so thankful."
Farmer and member of the village, Oscar Phillips is also pleased with the newly-constructed bridge "It will really be a benefit for us because I know the bridge is a really nice gateway from this community of Boroda end to Myrie, and from my part actually about two miles from here and it will really facilitate me to go and do my farm work."
According to Toshao of Wakapoa, Howard Cornelius it was announced at the 2018 Toshao's Conference that the construction of the new bridge would be undertaken by the Infrastructure Ministry. Cornelius also noted that several residents from the community gained employment through this project. "We thank the Government for being proactive and funding this bridge"
The bridge will benefit almost 350 residents.