…Police recapture Camp Street Prison escapee in Berbice
Less than a week after 13 prisoners escaped from the Lusignan Prison, 16 were shot as a riot erupted at the correctional facility on Saturday. In addition, four inmates were injured during a brawl among themselves.
Information reaching Guyana Times revealed that some time after 16:20h, a group of inmates started to behave disorderly among themselves, but this quickly escalated into a stampede.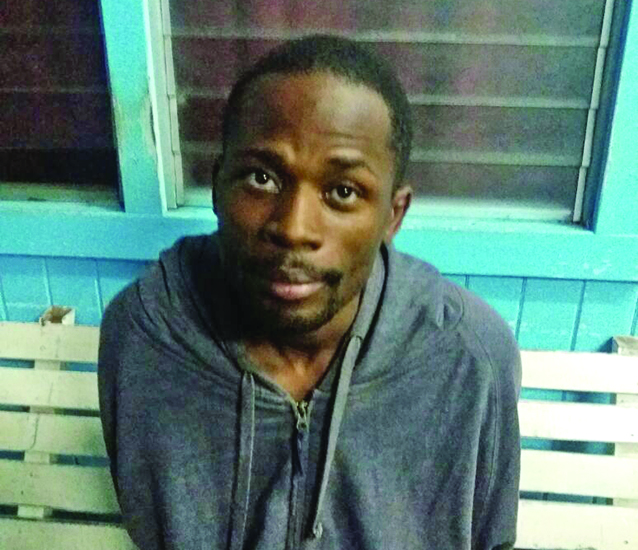 As a result of the fight, four prisoners were injured, with three being rushed to the Georgetown Public Hospital to be treated while the fourth was attended to by medical personnel at the Prison.
The prisoners were repeatedly warned by officers, but they refused to adhere to orders and hurdled bricks at prison officers who were on duty.
Speaking with this publication, acting Director of Prisons, Gladwin Samuels explained that as a result of the behaviour of the prisoners, the officers were forced to retaliate by opening fire. He noted that they were shot with pellets.
During the ordeal, 16 prisoners were injured, but only three had to be further examined by doctors at the Georgetown Public Hospital. The remaining 13, Samuels explained, were treated for minor injuries at the penitentiary.
He, nevertheless, stated that the situation was brought under control and the prison was back to normalcy. However, this newspaper understands that security at the holding area has been beefed up.
On Sunday into Monday last, the 13 prisoners made their way out of the Lusignan Prison by digging a hole under the perimeter fence, which was under the watchful eyes of members of the Joint Services. The men were deemed the "real bad" prisoners and were left in the pasture. Three were arrested along the East Coast of Demerara while four were recaptured in Georgetown on Monday evening.
Another, Kendall Skeete was recaptured, after being found hiding in an abandoned house on Wednesday in Wisroc, Linden and another, Pascal Smith was nabbed by Police ranks from a pit latrine at his residence in Barr Street, Kitty, Georgetown.
Following the recapture of the first seven, they appeared before Magistrate Peter Hugh at the Cove and John Magistrate's Court. During the arraignment, 22-year-old Jamal Forde, Jamal Joseph and 19-year-old Winston Long pleaded guilty and were sentenced to one year's imprisonment.
On the other hand, Teshawn McKenzie, Royan Jones, Jason Howard, and Odel Roberts pleaded not guilty and they were remanded until their case is called again in August at the Vigilance Magistrate's Court.
Recapture
Meanwhile, Joint Services ranks on Saturday evening recaptured wanted man Stafrei Hopkinson Alexander, who had escaped from the Camp Street Prison on July 9.
Information reaching Guyana Times indicated that ranks nabbed Alexander about 20:00h on Saturday at Topu, a village situated to the North of Albion and to the South of Rose Hall Town.
Hopkinson was among those who escaped from the Camp Street Prison during the fire which reduced the penitentiary to rubble and left one prison officer dead.
Divisional Commander, Assistant Commissioner Paul Williams told this publication that the wanted man was recaptured during "Operation Clean Sweep". He said members of the Joint Services had gone on an all-out hunt for Hopkinson after there were several sightings of him along the Corentyne in recent days. "We started checking all of the abandoned houses in the area not leaving anything unturned."
This newspaper was told that four persons were arrested on Friday, and based on information they provided, Hopkinson was nabbed. Guyana Times understands that ranks concealed themselves in an abandoned house when Hopkinson walked into the building bringing an end to a 16-hour stakeout.
Residents of the Williamsburg/Hampshire squatting area say several houses were searched on Friday and Saturday by members of the Joint Services.
According to the Divisional Commander, Hopkinson had been seen in the area on Friday. "So we implemented "Operation Clean Sweep", and not too long ago I got a call stating that they were able to capture him…," he related.
On July 19, there were reports that Hopkinson was seen and shot at, but he eluded capture. He was at the time sleeping in a hammock in the backlands of Port Mourant.
Hopkinson was implicated in several robberies along the Corentyne. Several of his Corentyne associates were under surveillance of the Joint Services in recent days, this publication was told.
Meanwhile, efforts continue to recapture the remaining three fugitives. These are Mark Royden Durant, Uree Varswyck, and Cobena Stephens.