As 81 youths completed the seventh National Trust Annual Children's Heritage Programme on Friday, the Education Minister is convinced that the participants' performance was a direct reflection of a culturally ingrained generation.
The event, which spanned a week, saw the participation of children aged 7-11 in various heritage projects. Participants were presented with the opportunity to create models of Fort Zeelandia and the Children's Millennium Monument among other monuments across Guyana. Under the instruction and supervision of staff of the National Trust, the students employed various creative methods and resources to produce their respective projects. The mere setting played a vital role in promoting and encouraging teamwork, sharing and creativity.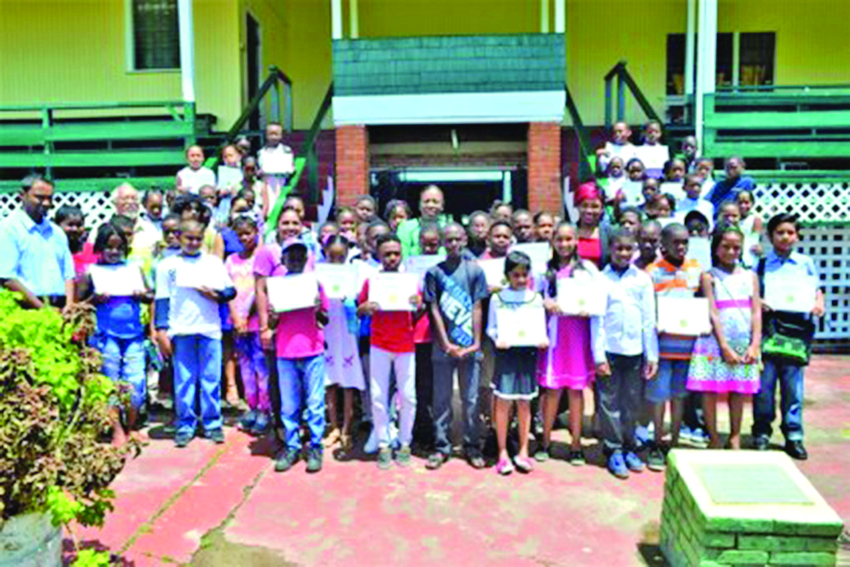 Participants created hangings with illustrations and paintings of Indigenous petroglyphs found in various local Amerindian communities, and also worked on natural heritage areas by constructing a model illustrating the important role of mangroves in guarding our seashore.
Aimed at promoting the importance of Guyanese culture and natural heritage, these activities helped to instil in the young minds, their significance in Guyana's history and role in ensuring the preservation of the many heritage sites.
The Education Ministry is pursuing sustainable and longer term programmes for children of all ages in the foreseeable future, having recognised the need for more projects to fill the widening gap in Guyanese heritage and daily existence. In this vein, the National Trust will be hosting a second, four-day programme, which is set to start on August 7 in New Amsterdam, Berbice, with the aim to sensitise a wider section of children on their heritage.
Speaking about the initiative, Minister Henry deemed the heritage programme "a unique experience" and one that would assist students in school for years to come.
"I urge you to share what you have learnt with your peers, relatives and friends such as the rules one should observe when visiting our monuments, or the importance of keeping the environment clean and being proud of our country's heritage," she urged the participants.
The Education Minister further acknowledged the efforts of the National Trust in advancing the standard of the programme this year with branded materials, increased students and uniformity.
"I am aware that the response was overwhelming this year… exceeding the 2017 target of 50 students between the ages of 7 to 11…," Henry said. Referencing a budding University of Guyana student present for the programme, the Education Minister added: "I am sure this was a wonderful experience for her to now return and share all she learnt with you. I am sure the Trust must be proud of her also, knowing that this programme played a role in her life."
Minister Henry distributed certificates and books on Guyanese monuments and heritage to the participants. She applauded the parents of the participants for recognising the importance of heritage education by enrolling their youngsters in the course and ensuring that the course was successfully completed.