…VAT waiver on construction materials, cash grants also praised
The Guyana Manufacturing and Services Association (GMSA) has lauded the cost-of-living relief measures that were announced by the President Dr Irfaan Ali-led People's Progressive Party/Civic (PPP/C) Government.
On Wednesday, the GMSA said the measures announced by the Government — ranging from the $1 billion in free fertiliser that would be distributed to farmers across the country to the assistance that would be provided to home-owners to construct their homes, and the removal of Value Added Tax (VAT) on construction material —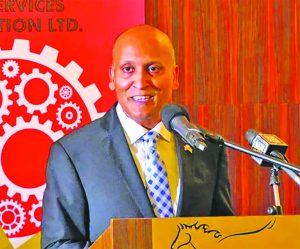 Government's initiatives to alleviate the rise in the cost of goods, are commendable, considering the imbalance of supply and demand for goods and services along with the challenges of global freight costs.
GMSA noted that this rise in cost of goods has resulted in daunting impacts to the business community and households alike.
"The injection of $1 billion in fertilizer, which will be distributed cross-country to farmers at no cost, assures of the Government's commitment to strengthening the resilience and sustainability of the Agriculture Sector," GMSA has said.
"Agriculture continues to be a major contributor to Guyana's economic development. This effort will also add scope to farmers who are contributing to exports as Guyana continues along the trajectory of transforming the agriculture sector in Caricom," the GMSA has said.
This is a reference to the Government's aggressive campaign to dismantle regional barriers to agricultural trade. President Ali has said that in the next four years, with the assistance of more diversified crops, Guyana would aim to reduce Caricom's food import bill by 25 per cent.
Construction
GMSA has also lauded the Government's efforts when it comes to the construction sector, noting that access to affordable and adequate housing would go far in improving the standard of living of Guyanese.
"The commissioning of the Special Unit to assist potential homeowners with the application and financing process to obtaining a home, the construction assistance facility, and the removal of VAT on sheetrock and concrete boards will especially afford low to middle income earners the opportunity to own their own homes", the GMSA has said.
According to the GMSA, the removal of VAT on basic construction materials would also assist in bringing down the Construction Sector's operational costs immensely, as the expanding Oil & Gas Sector results in an increased demand for housing in Guyana.
"The GMSA commends the Government for the provision of all measures extended, and commits to working collaboratively to the benefit of the business community, citizens, and stakeholders in bringing relief to the associated rise in the cost of living. The GMSA further looks forward to additional innovative ways to manage the effects of inflation in Guyana," that body has said.
On Monday, President Ali had announced a series of groundbreaking measures, ranging from cash grants to households in hinterland and riverine communities to the provision of free fertilisers to farmers.
Measures
The first initiative he announced was the distribution of a one-off $25,000 cash grant to every household in the riverine and hinterland communities of the country. This measure, according to Ali, would result in $800 million being pumped into the economy, and would cushion the impacts of the rising cost of living.
"The second measure I wish to look at is fertiliser support to farmers. In order to cushion the impact of the rising cost of fertiliser on farmers and to limit the pass through to food prices, my Government will be purchasing 1 billion dollars' worth of fertiliser for free distribution to farmers for use in planting and replanting activities," he has said.
According to the President, this initiative is being done "considering that fertiliser accounts for between 15 to 30 per cent of the total operating cost for farmers. This initiative will significantly reduce input cost, and help ensure scaled- up production and adequate supply of output, which is critical to maintaining price stability."
The third measure announced by the Government is the setting up of a special unit to help landowners of both private and Government-owned lots to build their houses. President Ali has said the unit would support applicants with the process of applying to banks for financing, and with the initial phase of construction by releasing the necessary resources. Persons would also have the option of choosing $7 million, $9 million or $12 million house models for the Government to help them build.
The other measure would see the removal of Value Added Tax (VAT) on additional construction materials until the market stabilises. These include sheetrock and concrete boards. President Ali has also noted that Government would continue consultations, and would, in the future, make more announcements aimed at bringing further relief to the public. (G3)