A 40-year-old woman who worked as a cook in the interior was on Monday evening struck down and killed by a motor car in an accident along the Mon Repos Public Road, East Coast Demerara.
Dead is Rada Panday, a mother of two of Third Street Mon Repos North, ECD, who was killed on the day she returned from the interior after sending almost five months.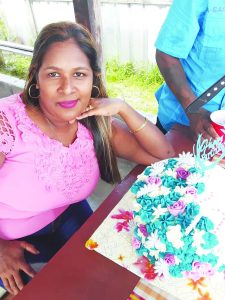 According to the woman's family, she had $1 million in her possession which is now missing and is suspected to have been stolen from the scene of the accident.
According to the woman's son, Michael Sooklall, his mother called him on Monday afternoon and told him that she returned from the interior and that he should come and visit her.
He said he went to his mother's house but she was not at home, and he was told that she went out with friends.
It was as she was crossing the road to go back home that she was struck down by a car driven by a 34-year-old driver who is a civil engineer.
The accident occurred at around 23:38h at Mon Repos on Monday evening.
According to a Police report, the driver was proceeding west along the southern driving lane on the southern carriageway when the woman crossed the road from north to south.
The car then collided with the pedestrian who fell onto the road's surface.
Panday was picked up in an unconscious condition and placed into an ambulance. She was taken to the Georgetown Public Hospital where she was pronounced dead.
A notice of intended prosecution was served on the driver of the motor car and a breath alcohol test was also conducted, which found no trace of alcohol in his system.
Paid
Meanwhile, the woman's son said his mother was paid $1 million for the period she worked and had that cash in her possession.
"She come out with the money that she get pay, and no money not appearing. She had the money on she. The jewellery, she husband take off the jewellery from she… they say her phone crush up in the accident."
Upon checking her at the scene, the money was missing but her jewellery was intact.
Only recently the Guyana Police Force warned persons to stop stealing from accident victims.
Police Public Relations Officer (PRO) Stan Gouveia said persons usually pretend to be helping the victims, when in fact they are actually trying to gain access to their valuables.
Items such as cell phones, wallets, jewellery, and other valuables are taken from the victims under the pretext of assisting them. Vehicles involved in accidents are also looted before help is sought.
It is also the belief of many family members who reported that their loved ones' belonging went missing at scenes, that some of the accident victims probably succumb to their injuries because the preparators are busy filling their pockets instead of lending a helping hand. (G9)