A teenager and another man lost their lives during the Easter holiday weekend celebrations at separate locations in Region One (Barima-Waini).
The first incident occurred at Black Water, Region One, where a 17-year-old lad was stabbed to death by his foster father.
Dead is Daniel Wilson. His cousin, 19-year-old Ron Moonsammy, was also stabbed in the chest during the incident and is currently receiving medical attention.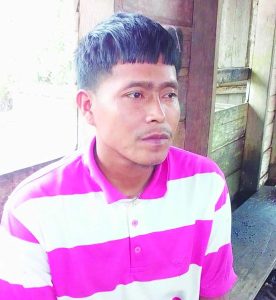 Reports are that the trio was together imbibing alcohol when an argument ensued amongst them, which led the foster father stabbing the young man with a knife.
Moonsammy intervened and tried to save his cousin but the suspect reportedly stabbed him in the chest. He was rushed to the Mabaruma Public Hospital in a critical condition and was medevacked to the Georgetown Public Hospital Corporation shortly after for further treatment.
The body of the deceased is presently at the Mabaruma Hospital's mortuary awaiting a post-mortem examination.
Police had initially said that the suspect was arrested and taken into custody at the Mabaruma Police Station, but later issued a wanted bulletin for 30-year-old Nigel Abraham of Lower Black Water, Barima River, in relation to the murder.
The Police said anyone who has information about the whereabouts of the wanted man is asked to contact them on 216-0251, 216-0254, 216-0251, 444-3429, 225-6978, 225-8196 or the nearest Police station.
Meanwhile, Sherwin Smith, a Mabaruma, Region One resident was stabbed to death during the Easter weekend celebrations.
The incident occurred on Monday at the Mabaruma Settlement Ground, North West District, during an Easter activity.
Reports are that the suspect was armed with a knife when he suddenly approached the victim and stabbed him twice about the body: once to the abdomen and once to the neck.
A policeman who was stationed at the compound's gate witnessed what transpired and arrested the suspect.
The victim ran to a nearby car and was rushed to the Mabaruma Regional Hospital where he was immediately taken into the Emergency Unit. However, he succumbed to his injuries that evening.
The suspect is presently in custody at the Mabaruma Police Station. Investigations are ongoing. (G9)