…as Zimbabwe expresses interest in Guyana's rum industry
The Philippines, a country in Southeast Asia, is seeking to enter into a visa waiver agreement with Guyana. This was conveyed by the newly accredited non-resident Extraordinary and Plenipotentiary of the Philippines to Guyana, Mario Chan.
On Tuesday, Mario Chan presented his credentials to President Dr Irfaan Ali, where he expressed his country's interest in having a visa waiver agreement between the two nations, which would facilitate easier travel between the two countries.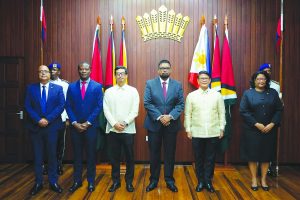 The newly appointed High Commissioner to Guyana said that it is his country's desire for the people of both Guyana and the Philippines to travel with ease between the two countries.
"I wish to propose consideration of a visa waiver agreement between the Philippines and Guyana covering holders of diplomatic and official passport holders. This will facilitate interaction between our Government functionalities as they may be allowed freer travel between our two countries. This waiver agreement may be explored to expand to holders of ordinary passports, especially as we seek cooperative engagements under the Philippines-Guyana technical cooperation agreements on tourism, fishers, food manufacturing, and agriculture," Chan put forward to President Ali.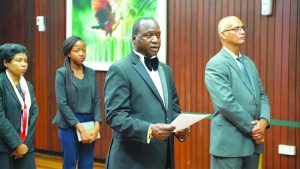 High Commissioner Chan also noted that as Guyana and the Philippines embark on the new venture, it will give Filipinos the opportunity to contribute to Guyana's society, in the fields of education, mining, health, and with further expansion in the future, hydropower technology, and the sugar industry.
He said, "I wish at this venture to take pride that our people-to-people exchanges have given Filipino the opportunity to beneficially contribute to Guyana's society in the fields of education, forestry, mining, and health. To enhance this contribution to the economic and social development of Guyana, the Philippines is interested in further expanding operations in the field of hydropower technology and sugar industry."
Will be examined
President Ali, in accepting Chan's Letters of Credence, said that for the benefit of the people of both nations, the visa waiver agreement will be examined.
"For the neutral benefit of our people, we should therefore seize this opportunity to renew our commitment to increasing people-to-people contact and enhancing our cooperation in key areas. In this regard, we'll examine your Government's proposal for the conclusion of a partial visa waiver agreement for the travel between Guyana and the Philippines," the Head of State said.
Further, President Ali said that Guyana and the Philippines share many ideals which provide the scope for enhanced bilateral relations in key areas, including agriculture.
"Guyana is on the cusp of economic transformation with opportunities for growth and development of all Guyanese. My government is working on expanding and diversifying all sectors of the economy with special emphasis on agriculture. This sector is expected to promote sustainable lively goods for all Guyanese while ensuring food security in the Caribbean. Agriculture is an important sector in your country's economy, it is the driver of growth and development and a significant employer. Guyana is key to explore opportunities for cooperation in this area," President Ali said.
Officially the Republic of the Philippines, the Philippines is an archipelagic country in Southeast Asia. It is situated in the western Pacific Ocean and consists of about 7640 islands. The Philippines covers an area of 300,000 km2 (120,000 sq mi) and, as of 2020, had a population of around 109 million people, making it the world's thirteenth-most populous country.
It is considered to be an emerging market and a newly industrialised country, which has an economy transitioning from being based on agriculture to being based more on services and manufacturing. The Philippines is a founding member of the United Nations, World Trade Organisation, Association of Southeast Asian Nations, the Asia-Pacific Economic Cooperation forum, and the East Asia Summit.
Zimbabwe, Guyana
Meanwhile, in creating bilateral relations with countries across the globe, President Ali also accepted the Letters of Credence from Ignatius Graham Mudzimba as the Non-Resident Ambassador Extraordinary and Plenipotentiary of Zimbabwe to Guyana.
Owing to contribution to the development of Zimbabwe's public service, President Ali said that the two countries share similar ideals when it comes to food security.
"Guyana is pleased that it has made a worthwhile contribution to the development of Zimbabwe's public service. Indeed, there is now even greater scope for us to construct a practical framework to enhance bilateral cooperation in those areas where we could benefit from neutral equities to aid in the development [of] particular sectors of our economies. For both the Caribbean and African regions, food security has become a priority. If you're to achieve the sustainable development goal of eradicating poverty, ending hunger, achieving food security, improving nutrition, and promoting sustainable agriculture, we must do so in partnership with like-minded countries and institutions," President Ali explained.
Additionally, Mudzimba hopes that Zimbabwe can benefit from Guyana's expert knowledge in rum production.
"There is need to explore and trap potential for our two countries for the development of our two people. Guyana has developed expertise in rum production, it may hope that Zimbabwe can benefit from your country's technical expertise for the mutual benefit of our two nations," Mudzimba expressed.
The Republic of Zimbabwe is a landlocked country located in Southeast Africa, between the Zambezi and Limpopo Rivers, bordered by South Africa to the south, Botswana to the south-west, Zambia to the north, and Mozambique to the east. It is a country with roughly about 15 million people, speaking sixteen official languages. (G2)