In keeping with the government's manifesto promise to deliver 50,000 house lots to Guyanese within its first term in office, the first 100 low-income homes are already underway in Leonora, Region Three.
This is according to Housing and Water Minister Collin Croal who highlighted that the region is no exception to the ministry's aggressive housing programme.
"We have a Memorandum of Understanding (MOU) with Republic Bank for the construction of 500 houses here in Region Three. Already the first 100 are ongoing within Leonora, Edinburg, and Cornelia Ida where we are about 40 per cent complete.
"So, in another few months, one can see persons who are going through our system and that is to be able to pre-qualify with the bank being able to take up occupancy on those houses, here in Region Three," the minister stated.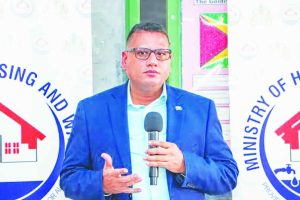 The Central Housing and Planning Authority (CH&PA) and Republic Bank Limited (RBL) signed the MOU for the financing of 500 low-income houses in Leonora in July 2022.
The 20 x 30 (625 square feet) two-bedroom flat units will be constructed at a cost of $5.5 million each.
The projects involve building access roads, bridges, culverts, and drainage networks in addition to installing water and electrical supply networks.
As the region remains poised for massive developments, Minister Croal also cited other large-scale infrastructure projects, such as the $11 billion four-lane Schoonord to Crane four-lane highway, which will open up opportunities for residential and commercial development.
Croal noted that this will help to generate income for the residents and create job opportunities.
"Right now, we have over 1,100 community roads that have been awarded for which almost all communities in Region Three, you will see concrete or asphaltic concrete works taking place…Very shortly, you will works commencing across the region like is happening on the entire coastland," he highlighted.
For 2022, some 2,800 house lots were allocated in Region Three. To date, over 4,660 new lots were allocated in the region.
The government's national housing programme caters to all sections of society regardless of geographic location.