– GFS praised for quick response
The Guyana Fire Service (GFS) came in for high praises after its members responded promptly to a late Sunday evening fire at Vivaanta Ayurvedic Spa and Hair Salon at Church Street, Georgetown, saving the building from complete devastation.
The Guyana Times understands that smoke was seen billowing from the middle part of the five-storey building. As such, an alarm was raised and the GFS was contacted.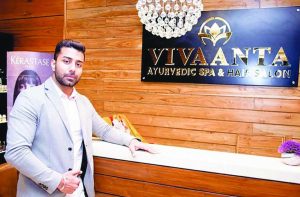 In a Facebook post on Monday, the company's director Karan Mehra said the fire did not affect any buildings as it was swiftly contained and put under control by the GFS with assistance from the community.
"Fortunately, there were no injuries or major material loss resulting from the incident. Operations will continue to take place as usual", he informed.
The statement added: "We say a very big thank you to the Guyana fire service, Police, and the community for their swift response and assistance in containing the fire. We also thank everyone who was supportive and reached out to us during the incident."
Just recently, Home Affairs Minister Robeson Benn pointed out that there has been an upsurge in fires on both commercial and residential buildings, resulting in the loss of properties and loss of life. He had called for awareness and better equipment to conduct firefighting in Guyana, noting the use of fire sprinkler systems, high-rise systems, and quality electrical installations.
Meanwhile, over the past two years, at least six schools have been affected by fires.
These include North Ruimveldt Multilateral School and St George's High School in Georgetown; Essequibo Technical Institute (ETI); Amelia's Ward Primary School in Region 10 (Upper Demerara-Berbice); and North-West Secondary School in Region One (Barima Waini).
Last week, a fire broke out in the science laboratory at the Christ Church Secondary School at Middle and Camp Streets, Georgetown; the blaze was, however, quickly contained by the GFS.
The North Ruimveldt Multilateral School, St George's High School and North-West Secondary School, which were completely destroyed, are being rebuilt.