The Pennie Bears Gym Bearie – a new premier children's development facility opened its doors on Saturday to encourage children to explore their creativity through a range of development activities.
Owner of Gym Bearie, Miriam Andrew-Ming shared that the institution will not only be a space for the development of children but also for parents.
"I understand that they're issues with planning for parenthood and afterwards so I saw the need for support groups. Groups that will enhance family time, that will allow us to speak openly and freely and deal with issues that we know we are being faced with. We have two medical persons who will guide our family classes. Those classes would include, mommy and me groups, daddy and me groups as well as planning for parenthood groups," Andrew-Ming explained.
Human Services Minister, Dr. Vindhya Persaud who was also present at the launch shared that this initiative aligns well with the ministry's vision for all children across Guyana, she also stressed the importance of early childhood development in children.
"The idea of having a space within the first few years of childhood development concept, where we focus on children zero to five years old and ensure one, they are able to be in an environment where creativity knows no bounds, no limits, but they are also in an environment where they could be observed and, on some level, screened for many of the things, we want to be aware of very early in their lives," the Minister expressed.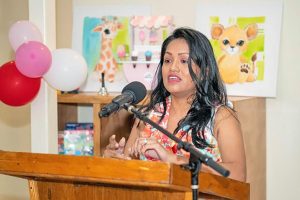 "Giving a child the opportunity to just look beyond the mundane and the routine ways of learning really creates the kind of foundation that we want every child to benefit from," she added.
The Peenie Bear's gymbearie will also be providing night care services for parents who work at night and need childcare assistance. Additionally, Gym Bearie is currently offering two nights free of cost for persons registering within the 7 to 10 of January 2023.