Colwin Barnwell also called "Timmo", a vendor of Vigilance East Coast Demerara (ECD), was on Monday, charged with the unlawful possession of firearm and ammunition.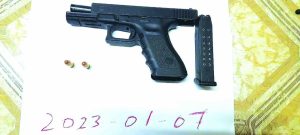 The 34-year-old man appeared before Magistrate Fabayo Azore at the Vigilance Magistrate's Court where he pleaded not guilty to both charges. Bail was refused and he was remanded to prison until February 17, 2023.
Police stated that ranks from Regional Division 4 'C', on Saturday, nabbed Barnwell with a Glock 17 (9mm) Pistol with no serial number, along with two matching rounds of ammunition.
At the time, the ranks were on mobile patrol duty in Friendship, ECD where they saw him standing with a black plastic bag in his hand. On seeing the Police ranks, Barnwell started to walk away. He was told to "stop", but instead, he ran away. The ranks gave chase, and he was caught.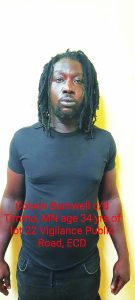 A search was conducted on him and a Glock 17 Pistol (9mm) with no serial number, along with two 9mm matching rounds of ammunition, were found in the crotch of his pants. He was asked if he was a licensed firearm holder, and he said "no". As such, he was told of the offence committed and cautioned.
He claimed that he bought the firearm when he was in the interior region in Aranka. He was arrested and escorted to Vigilance Police Station along with the firearm and ammunition.