Commuters using the Vreed-en-Hoop ferry stelling will no longer have to brave harsh weather conditions to get to the water taxis, with the construction of new amenities.
Previously, passengers had called for the structure to be enhanced, adding features to ease their way to the speedboats. Now, the area has been covered with a shed, allowing ease of travel. In addition to the scope of work upgrade to the current stairs.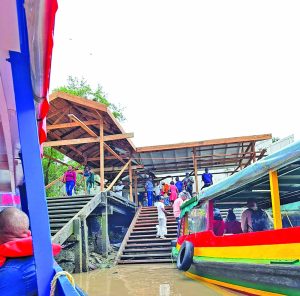 Works were undertaken by the Public Works Ministry through the Maritime Administration (MARAD) and Transport and Harbours Department (THD). Upgrades are to also follow for the Georgetown Stelling.
The Guyana Times spoke with a few commuters on Monday morning, who welcomed this change, especially in wake of the current rainy weather.
One man, Peter Singh expressed, "I am happy they do it. Every day I come here and when the rain fall, it was hard to get into a boat even with an umbrella. The breeze blowing and my whole clothes would wet up. Now that they close it off, look how easy people can go in the boat."
Another shared, "This was much needed…It looks nice and I think they are doing a good job. I used to always say this is what we need. Since the steps fixed and this is done, I can say it is a much better experience."
Meanwhile, one operator told this publication that the wooden structure would become slippery amid continuous rainfall. Now that the area is covered, people can disembark safely and go about their business. As of Monday, works were still in progress and will take a few weeks to be completed.
About one month ago, boat operators plying the Vreed-en-Hoop/Georgetown route took strike actions, demanding an increase in fare from $100 to $120, leaving thousands of persons stranded.
The Guyana Defence Force was tasked with deploying buses to assist in shuttling passengers across the Demerara River (Demerara Harbour Bridge), while boats from the Parika Service were also added to the route to compliment the relief efforts of the MARAD, Guyana Defence Force Coast Guard, Guyana Police Force and Sheriff Security.
A few days after, President Dr Irfaan Ali met with members of the Demerara River Speed Boat Association, to which the public was notified that going forward, persons using the Vreed-en-hoop to Georgetown speedboat service will pay the usual fare of $100.
The President has also committed to helping improve the service of the speedboat operators and the stellings between their operations.