─ at Vreed-en-Hoop
Twenty-year-old Safraz Mkeed is now a patient at the West Demerara Regional Hospital (WDRH), while his colleague, identified only as Timothy, was rushed to the Georgetown Public Hospital (GPHC) to receive attention for the more severe injuries he sustained when they both came in contact with a high voltage electric cable at a construction site in Vreed-en-Hoop, West Coast Demerara on Sunday, and were thrown off the 3-storey building they were working on.
Eyewitness reports detail that the incident occurred at around 10:30hrs, while a number of men were working on constructing a shopping mall located next to the Republic Bank branch (RBL) at Stelling Road, Vreed-en-Hoop, WCD.
This publication understands that the duo were at the time working around the edge of the upper flat of the building when Mkeed stumbled on high voltage cables attached to a nearby Guyana Power & Light (GPL) electricity pole and was thrown against his colleague at the edge of the building. The impact caused Timothy to lose balance, and both men went tumbling from the 3rd flood.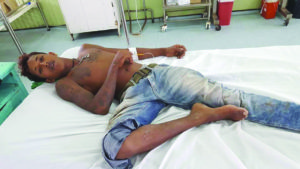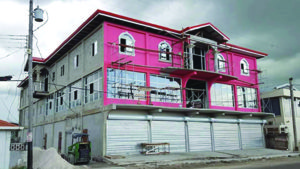 Mkeed somehow managed to land on the 2nd flood, but Timothy tumbled all the way to the ground.
The two construction workers were instantly rushed to the West Demerara Regional Hospital in a bus being operated by the RBL. There it was determined that Mkeed had sustained a minor laceration to his head and several electric burns about his body. His colleague Timothy, however, sustained a broken arm, fractured ribs, and other injuries.
Mkeed remains under observation at the WCD medical institution, while Timothy has been transferred to the GPHC in light of the severity of his condition.
When the Guyana Times visited the scene of the accident on Sunday, the workers had already been sent away. Nevertheless, this newspaper managed to speak to Mkeed while he was receiving treatment. He detailed that he had been labouring at the site for about 6 months, and that the incomplete structure is intended to house a business establishment.
Meanwhile, ranks of the Vreed-en-Hoop Police Station have said that a formal report is yet to be made to them concerning the incident, despite the outpost being 2 doors away from where the incident had occurred. In fact, the officers on duty pointed out that they were at the time housing a prisoner and were unable to leave him unattended to rush to the scene.
As such, it is uncertain whether a police investigation has been launched. (Ashraf Dabie)