– relatives of dead men believe they were being chased
By LaWanda McAllister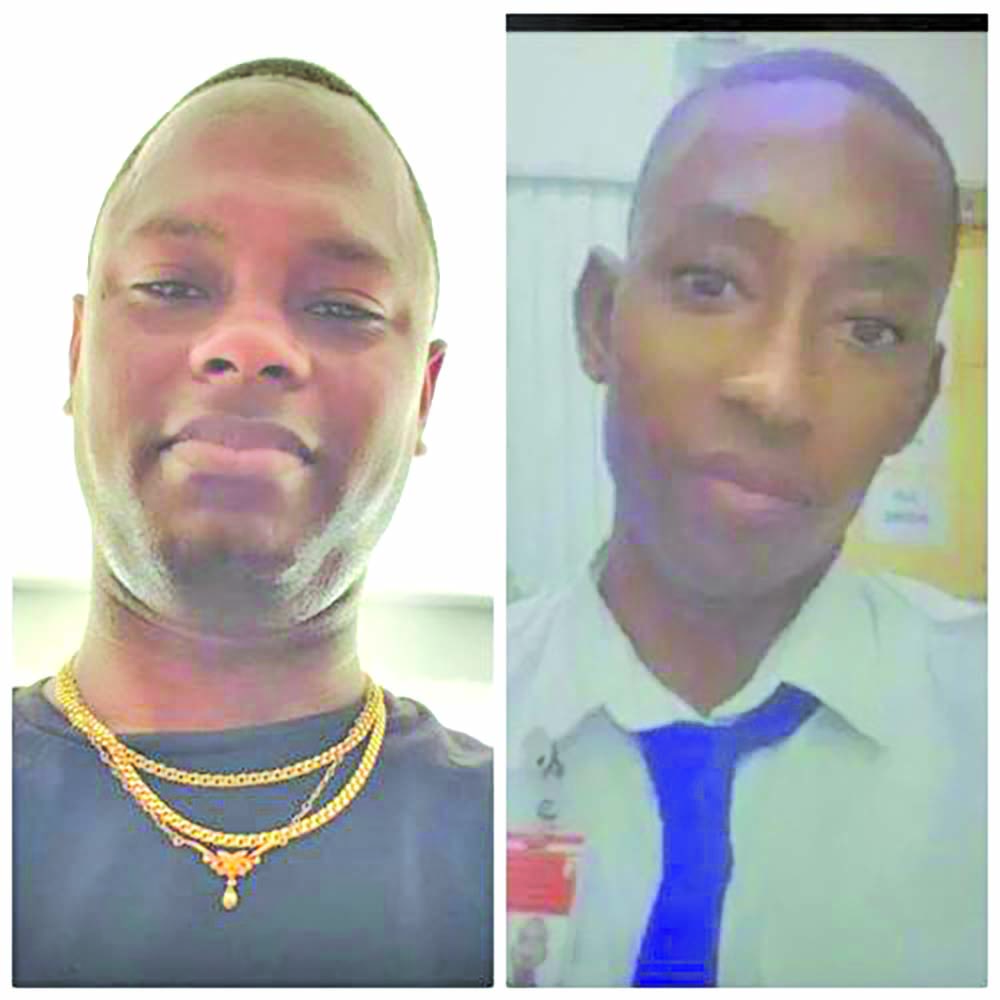 Two friends are now dead and another is seriously injured after the car in which they were travelling crashed into two utility poles along the Timehri Public Road, East Bank Demerara (EBD), on Saturday evening.
Dead are 24-year-old Pastal Dainty of Unity Place, Festival City, North Ruimveldt, Georgetown, and 32-year-old Delon Whitehead of William Street, Kitty, Georgetown. Twenty-five-year-old Michael Kendall of Block X Great Diamond, EBD, is listed to be in a serious condition.
It was reported that the three friends were in motor car PXX 5192, driven by Dainty, and was proceeding along the Timehri Public Road at a fast rate of speed when the driver lost control of the vehicle.
The motor car reportedly ran off the road and collided with two utility poles. The vehicle reportedly toppled several times before coming to a halt on a concrete fence.
As a result of the collision, the driver and occupants received injuries about their bodies. They were pulled from the wreckage in an unconscious state by the Police and citizens who escorted them to the Diamond Diagnostic Centre.
However, Whitehead and Dainty were pronounced dead on arrival while Kendall was admitted a patient in the Intensive Care Unit at the said institution and his condition is regarded as serious.
At the home of Whitehead on Sunday, his mother, Michelle Williams, said she had just finished work on Saturday evening when she received the news of her son's death.
"He girlfriend call and said he reach in some accident and everybody gone to the hospital, and he look like he dead. Not knowing, that she was the key to the problem. I went to received my son's body, and his hand was broken, gash to his like he was chopped… he was seated at the back," she said.
Williams said her son had shared a relationship with the woman who was also in a relationship with another man. She said on the night of her son's demise, the woman took him to a barbeque in Timehri where her lover resides.
"They [Whitehead and the woman's partner] had some scuffle and his friend (Dainty) was bringing him away, and next thing, the boy that he had the fight with went and get a crew and come back and give them a chase. With that, I don't know if they jam the back of the car, and it went skating. My son pitched out the car…", she explained.
The woman said her son and his friends were not speeding intentionally; they were trying to escape from the men who were following them. She said the persons who were chasing them did not even stop to render assistance after the accident.
"After the story done happen, they drive around and play like they coming to the hospital, that was very suspicious. Even with the girl I warned him to stay away from her. She put him out and he still went back, she put him through a lot. My son is quiet, he is not a murderer I took care of him without a father and he just die like that," the tearful mother said.
At the home of 24-year-old Dainty, his mother, Shirley Dainty, spoke with <<<Guyana Times>>>. According to the young man's family, he had only celebrated his 24th birthday two days ago.
His sister related that her family received a telephone call on Saturday evening informing them that her brother was involved in a serious accident. Upon their arrival to the Diamond Diagnostic Centre, they were informed that the man succumbed to his injuries.
"Two days ago, I hugged up my brother and wished his happy birthday…he left and come back and I hugged him up again…I didn't want to believe that he died. when I get a chance to identify the body, I see to my devastation I see its Pastal…", the sister noted.
The dead man's mother said her son was trying to save Whitehead from his attackers, by putting him in his car and leaving the party. She said they were also told by eyewitnesses that a group of men began chasing her son and his two friends who were occupants of the car.
Fearful for their lives, the now dead Dainty was reportedly driving at a fast rate of speed.
"My son is not a fighter; he is a willing boy… he was apparently scared of them that is why he picked up a speed. Bystanders told us that the car that was chasing them knock into the back of the car and ran them off the road," his mother said.
Williams said this is a hard hit for her family because only a day ago her son's first cousin, 37-year-old Sheldon Dainty of La Parfaite Harmonie, West Bank Demerara, was crushed to death after losing control of a truck at 26 Miles Public Road, Port Kaituma, North West District, Region One (Barima-Waini).
The man was in motor lorry GSS 4472 and was proceeding south along the eastern side of the road, ascending a hill, when he encountered mechanical problems, causing the motor lorry to start descending the hill at a fast rate of speed. As a result, he was crushed to death.
"I also still trying to get over the loss of a family member that passed just a few day ago and my daughter who died last year, now this. I have a ticket to show, my son was supposed to travel to the US at 10:15 on Friday morning. He had so much plans and goals."
"I am not judging, but if that was the problem and they [the men who were chasing the dead men] snapped two innocent lives out just because of a fight, I will leave them in the hands of God," Dainty's mother said.